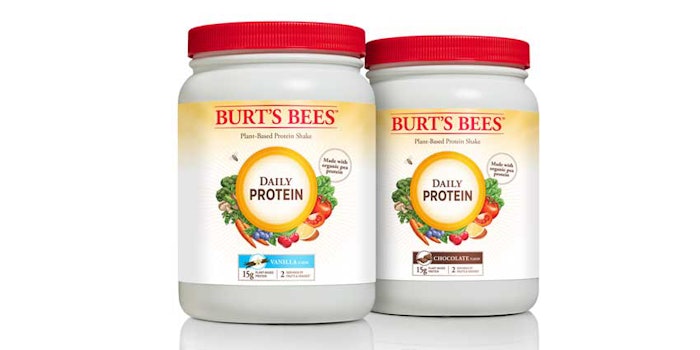 Burt's Bees
Known for its skin care products, Burt's Bees has recently entered the plant-based protein shakes world to help nourish users from the inside out.
The company is releasing three products in its shake line:
Daily protein
Protein + gut health with probiotics
Protein + healthy radiance with antioxidant vitamins A, C & E
John Feeney, brand manager at Burt's Bees discussed the significance of wellness in these shakes.
"Plant-based protein is more sustainable than regular protein and we think that's a great move," said Feeney. "We're a known and trusted brand so we feel really good about the fact that we're a name in 'natural' that people know and trust."
Plant Protein Packed
Each formula provides 15 grams of protein per serving from five sources:
Pea
Flaxseed
Sunflower seed
Oat
In addition to these sources, the company created the line to be gluten-free, soy-free, dairy-free and made without artificial sweeteners or flavors, explained Feeney.
"We're always looking in anything we do to have the most natural and holistic formula, whether that's a body cream or a lipstick or a plant-based protein powder," added Feeney.
RTD Products and Flavors
According to Feeney, the company will look into ready-to-drink (RTD) products with the same holistic approach as the current formula. RTD is convenient because users can be flexible and throw the product into their gym bag or lunch box, he added.
As for flavors, the company currently offers chocolate and vanilla, but is interested in looking into new and interesting flavors beyond these, said Feeney.
"I think often, people associate protein powders—or specifically plant-based protein powders—with a grittier or chalky taste and mouth-feel, but these products taste pretty fantastic," he explained.
The powders can be mixed up with unsweetened almond milk or a host of other smoothie recipes, added Feeney.
"Right now we have a chocolate and a vanilla and all flavors are offered in both except for the Gut Health; the Gut Health is currently only offered in vanilla," said Feeney. "People have really consolidated around them. Vanilla tends to be a little more popular as a powder and is often used as a base for smoothies and RTD chocolate is often a popular choice."