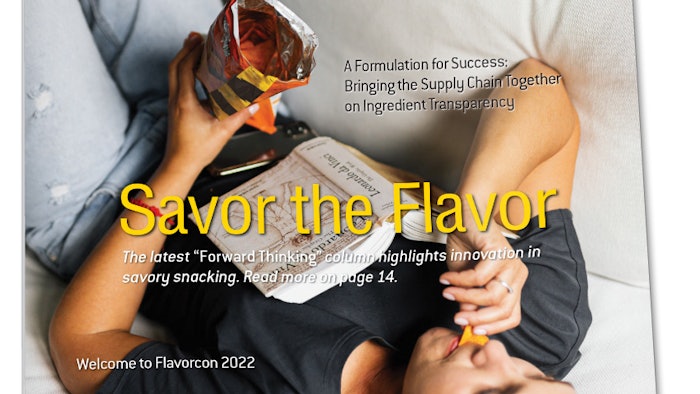 The November issue is here! This month's issue marks the return of Flavorcon 2022. Be sure to register ASAP to secure the best rates for the two-day event in Cincinnati.
Cozy up and take a look at the latest in plant-based innovations, supply chain news, snack trends and more. Here are some highlights of the new issue:
Editor's Note: Consumer Demands Drive Ingredient Transparency in F&F by Perfumer & Flavorist+ managing editor Jenna Rimensyder
Product Roundup featuring BASF, Natural Advantage, OQEMA, Symrise, Hangzhou Grascent Co., Ltd., MilliporeSigma, Berje and Ventós
Industry News featuring headlines from Firmenich, Givaudan, Flavorsum, Itaconix, Kao, Treatt, IFRA and T. Hasegawa
Flavor Bites: Ethyl 3-hydroxybutyrate by John Wright
Forward Thinking: Lip-smacking Snacks by Amy Marks-McGee, Trendincite LLC
Vanilla Bean Extraction: Old Procedures Needing a Makeover Part 2 of 2 by Patrick Dunphy, Ph.D., vanilla and flavor consultant and Krishna Bala, Ph.D., Dr. Vanilla LLC
A Formulation for Success: Bringing the Supply Chain Together on Ingredient Transparency by Melissa Hockstad, president and CEO, American Cleaning Institute
Plant Power: Challenges and Opportunities in the Development of Meat and Fish Alternatives by Gilbert Verschelling, director of business development & innovation, DSM
The Future Is Green for Plant-Based Alternatives by Jen Lyons, marketing manager, Sensient Flavors & Extracts
Perfumer Notes: Tuberose by Pierre Benard, creative perfumer
Welcome to Flavorcon 2022 by Perfumer & Flavorist+ managing editor Jenna Rimensyder
Capturing The Essence Of Umami Flavors by John Stephanian, vice president, Global Culinary & Innovation, ADM
How Fragrance Brands Put Scent Into Words by Tom Hoare, brand copywriter, Ico Design

Organoleptic Characteristics of Flavor Materials by Cyndie Lipka Principal flavorist, Bell Flavors and Fragrances
Want to know everything going on in flavor & fragrance? Sign up for P&F+'s newsletter. You can also follow along on Instagram and LinkedIn.