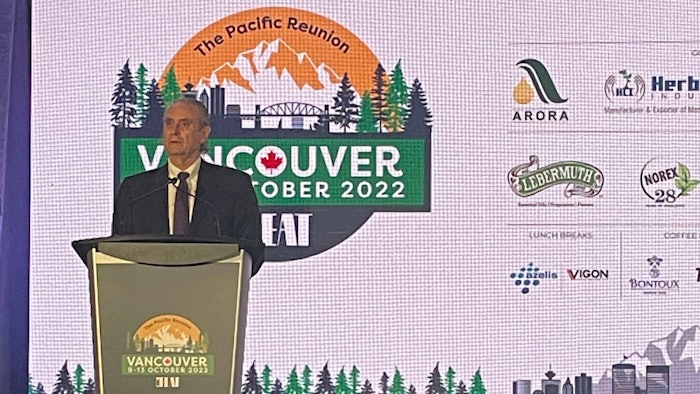 JENNA RIMENSNYDER
IFEAT Vancouver 2022 hosted a lineup of curated conference sessions covering various aspects of the F&F realm.  One of which was the IFEAT Medal Lecture, given by Berjé's, Kim Bleimann. With nearly 50 years of experience in F&F,  Bleimann joined Berjé in 1973 and assumed ownership and became president in 1981. Now the current chairman of the board of directors, Bleimann's session, "Catalysts of Change," began by acknowledging and thanking fellow leaders in the industry before beginning with the first of many quotes just before saying, "These are my personal views, mine alone [..] certainly over the years I have not been known for my political correctness and I hope not to disappoint you today." Which was met with laughter from the audience. 
Bleimann said, "Thunderstorms are building all around us," referencing the European (EU) Green Deal and the threats that the possible forthcoming regulations will have on the F&F industry, "If we are not diligent and mindful, the flavor and fragrance industry could be, no, will be in peril." 
The Berjé chairman went on to highlight how REACH has negatively affected the F&F industry in "what was structured as a definitive restraint of trade dressed in safety while vehemently denying that fact." 
He went on to discuss how the "fuel of innovation" is being threatened by three facets: The shrinking of perfumers' palettes; Regulations;  Mergers and acquisitions.
Bleimann thanked and acknowledged organizations lobbying against these strict EU Green Deal guidelines but worried that they may not be enough. These restrictions could not only affect the creativity and innovation of the F&F industry but also cost companies millions to get ingredients approved. Saying, "Death by regulation is real." 
Want to know everything going on in flavor & fragrance? Sign up for P&F+'s newsletter. You can also follow along on Instagram and LinkedIn.