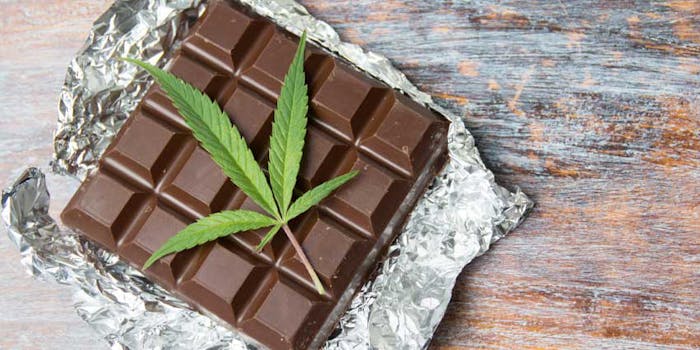 An emerging ingredient is growing in the flavor industry, specifically among desserts and beverages—cannabis.
In 2015, legal cannabis in the United States reached $5.4 billion and edibles made up at least half of that total. Two of the most popular segments in cannabis confectionery include mints and gummies.
"Edibles are the most controlled and tasty way to consume cannabis," according to Spot Seattle. "Yes, they take a little longer to get going compared with smoking, but they have a smoother, long lasting arc and that's why we like them."
Additionally, the company focuses on sustainability and works with farms around the state of Washington to source cannabis for the butter infusions and extracts.
Cannabis for the People
Peter Barsoom, founder and CEO of 1906, which is a cannabis chocolatier out of Colorado shared his knowledge on cannabis and the reason he started his business.
"We started 1906 because people should have access to great plant medicine, people should have access to great edibles and it came with a view that we do things all day long to alter ourselves in one way shape or form."
Barsoom explained that humans consume naturals such as coffee for energy or chamomile tea to relax or help people sleep and so on. The use of medical cannabis and other plant medicines may be better for people in addition to something they may enjoy more, he said. It's all about giving people the experience.
According to Barsoom, he started off with the categorization of four core experiences and designed products around each one: energy, sleep, relaxation and sex.
Each of his products is ensured to have the right flavor profile by benefitting each of the core categories with flavor pairings such as hints of rose and vanilla for love or raspberry and coffee flavor for energy. Because cannabis is heavy and grassy, Barsoom wanted to be sure there was no cannabis taste in any of his products and masked the flavor of tetrahydrocannabinol or THC.
Masking Flavor Techniques
Barsoom utilized a number of different taste masking techniques to omit certain flavors. In some cases his business used a lipid micro encapsulation method to eliminate the taste of cannabis.
"Cannabis as a flavor belongs nowhere," he said. "While there are some people who like the flavor of cannabis, for us, it has no place at all in the food."
In addition to eliminating the cannabis flavor, Barsoom also focuses on some other ingredients and develops coatings for them such as caffeine. His products have bitter blockers in other instances to counteract flavors, he added.
"Depending upon the different substance and experience, we had to utilize different types of flavor masking technologies in order to eliminate the off flavors," he said.
Furthermore, the company hired a senior flavor technologist from International Flavors & Fragrances to help develop a set of flavors to both remove or eliminate residual off flavors and also deliver flavor experiences that were wanted at the end of the day, explained Barsoom.
Warnings of Cannabis Products
The U.S. Food and Drug Administration warns of companies that do not legally sell cannabis products online, claiming to prevent, diagnose, treat or cure cancer without evidence to support these results.
Unapproved products with unsubstantiated therapeutic claims are a violation of the Federal Food, Drug and Cosmetic Act. Additionally, patients consuming said unproven-as-safe products can be putting their health at risk.
Marketing can be misleading and can drive patients away from accessing the proper therapy to treat serious and sometimes even fatal diseases.
Cannabis on the Horizon
While cannabis still has a long way to go, Barsoom believes the future will go above and beyond any expectations because of three reasons:
There will be more legalization and cannabis will be legal all over the U.S.
Cannabis will become more mainstream and it won't be about just getting a high, but there will be purpose behind it and will help people feel good
Cannabis is the future and will embrace more medication
Additionally, Barsoom believes consumers need to be educated on the various options of controlled cannabis and the various modifications.
"Part of our challenge is to let people know that there are options out there and cannabis isn't just about getting totally high and you can do it in a controlled way and it can be a better alternative," said Barsoom. "So a big part of what we're trying to do is educate the consumers."