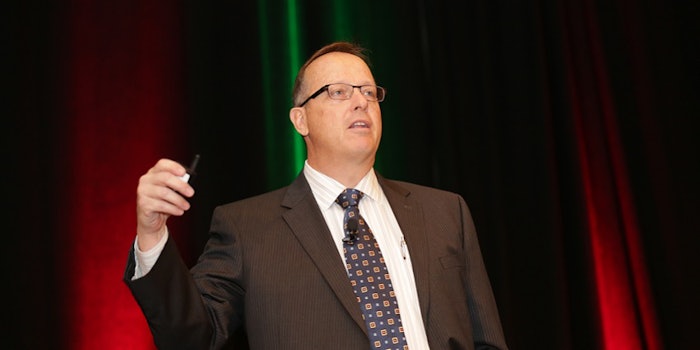 Day two of Flavorcon was jumpstarted by keynote, David Tonucci, vice president of global regulatory and scientific affairs at Tate and Lyle in his presentation "Consumer Driven Innovation and Regulation."
"Regulations are in response to what is already happening: what the consumer wants, what's going on in the market place, what is going on between industries, in between countries, consumer perceptions, socioeconomic environments and new technologies," he explained.
Tonucci narrowed down the drivers of food and flavor to three points: consumer perception, social perception of risk and new technology itself.
Exposure to certain types of unhealthy foods are seen as risk factors, which has initiated programs by authorities to develop new regulations in order to drive a healthier society. This point set the stage for Wednesday's science and technology track, which addressed the dialogue between regulations, formulators and consumers.
"We have the technology before we really thought [about] how consumers are going to respond, how we need to label—all of these things are missed because the way regulatory affairs groups and industry in general, are not engaging with the stakeholders and [having] those discussions to solve the problems before they occur," Tonucci explained.
Natural, Compliant Reaction Flavors
Can reaction flavors be declared natural? Though components of reaction flavors include sugars and amino acids, they are not viewed as flavors from a regulatory perspective, explained Luke Grocholl, regulatory management, Millipore Sigma
Reaction flavors are used in different brown, cooked materials. Grocholl's presentation focused on meat substitutes, which need a meaty, savory flavor. The industry is driven by healthier foods, specifically with the rise of vegetarian and halal foods and the meat substitute market is a growing segment—which is expected to reach $5.96 billion by 2022.
Defining natural vary between US and the EU legislations. In the EU, thermal process flavors are not listed as natural flavors, rather they are recognized only as flavors. This is similar to the International Organization of the Flavor Industry (IOFI) guidelines. In the US, since the main components of reaction flavors, amino acids and sugars, are consumed during heat/reaction, these materials are listed as natural flavors.
The meat substitute market is expected to reach $5.96 billion by 2020.
Ultimately, Grocholl says, it's critical for suppliers and manufacturers to work closely together in order to ensure these materials are compliant to regulations. "What we're looking at are the natural flavor elements on the label. Natural is important, but each component of a reaction flavor must be reviewed for proper labeling," he said.
Getting Your Money's Worth
Consumer demand for clean ingredients, limited natural supply and rising cost of raw materials are drivers behind a more precise ingredient selection and verification process throughout the supply chain. Natural-source testing offers the flavor industry an opportunity to identify adulterated materials. Materials derived from biomass will have a C-14 isotope, whereas materials derived from fossil fuel will not.
"Analysis of verifying an essential oil is critical in identifying fraud early on," explained Florencia Goren, business development manager, Beta Analytic. "Making the natural claim puts your brand's reputation on the line, and risking legal/marketing/financial repercussions."
Though C-14 testing has been used since the 1960s in a variety of industries, it is relatively new to the flavor industry. ISO 16620, ASTM D6866 and EN 16440 are the bio-based standards used by bioplastic, natural/biobased cleaning products, biofuel products and renewable product industries.
More flavor companies are using C-14 method to verify, explained Goren. Garlic oil, for example, is known to be adulterated due to its high demand and limited supply. Goren's team analyzed four different garlic oils with natural claims on the label. Using a GCMS, the oils were confirmed to have the chemical composition of garlic oil. The oils were then tested under ISO 16620 and out of the four, only one of the oils was found to be natural.
"Biobased reporting is the next step for the flavor industry," Goren said, "You should get what you pay for."
Flavoring with Modifying Properties
When can a flavor become a food additive? In his presentation, Matthias Guentert, PhD, food and flavor consultant, explained that flavoring with modifying properties (FMP) are integral parts of the flavor, which is composed of essential oils, extracts, natural aroma chemicals, flavoring preparations, artificial aroma chemicals and reaction flavors. But FMPs do not contribute to health components.
The market for flavoring with modifying properties is estimated to be worth between $0.5 to 1.0 billion.
"FMPs are substances that may not impart odor or taste themselves but they have the ability to modify other flavors," Guentert explained. "This relates to the enhancement of sweetness and saltiness in conjunction with the altering flavor attributes."
As companies are looking to reduce salt and sugar, FMPs can contribute to solving these concerns. FMPs like advantame, matairesinol and erythritol are recognized as dual-use ingredients, which are approved as food additives, but also as a flavoring material in sub-threshold levels.
"All of these materials have maximum use levels in different applications," explained Guentert. "Not for toxicological reasons, but for sensory reasons because they must act as a flavor." In fact, sensory testing is essential for testing successful FMPs, which are estimated to be worth between $.5 and 1.0 billion.
Interestingly, the new FEMA-GRAS list 28 has less than 10 taste modifiers; however, over the last 10 to 12 years, over 80 FMPs have been FEMA-GRAS approved. As taste modulation becomes more relevant, we're seeing more approvals in the US flavoring ingredient lists, despite a complex intellectual property landscape. Many FMPs are patented for specific use by food ingredient and flavor companies, and as long as the FMP is treated like a flavor, there are no labeling guidelines associated with it.
However, the interpretation of these informal guidelines is inconsistent and may pose a problem for future use. "We all have to make sure we follow the rules," Guentert said.