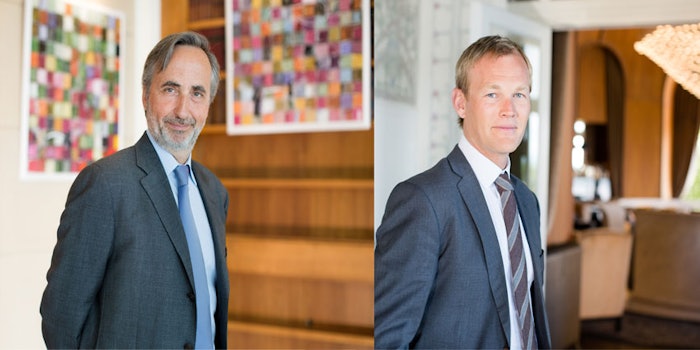 From left: Armand de Villoutreys and Amaury Roquette. Image courtesy of Firmenich.
On July 1, 2017, Armand de Villoutreys will serve as Firmenich's president of perfumery and ingredients, reporting directly to Gilbert Ghostine, CEO. In his position, Villoutreys will lead the global ingredient business team, which is headed by Amaury Roquette, vice president of sales and ingredients, who will report directly to Villoutreys.
Ghostine said, "Since Armand's appointment as president of perfumery in 2010, he successfully advanced the leadership of our perfumery business year-on-year, as evidenced by our number one position in fine fragrance and our growth leadership in body and home care. By extending his vision, deep industry knowledge and customer intimacy to Ingredients, I am confident that he will take the group to new heights."
Villoutreys joined Firmenich in 1999 and started as a general manager of fine fragrance in Europe. In 2010, he was appointed to the executive committee as president of perfumery.  Villoutreys is a graduate from École Supérieure de Commerce de Paris (ESCP) and holds an MBA from INSEAD.
Expanding a Creative Portfolio
Villoutreys said, "By bringing our perfumery and ingredients teams closer together, I am excited about the creative potential ahead. Our excellence in perfumery with award-winning creators, combined with the industry's finest ingredients portfolio gives us an undeniable edge to delight consumers and win with our customers."
He has also assisted with customer relationships by aiding the account management team. Under Villoutrey's leadership, the company has strengthened its team of creative fragrance talent, which includes the appointment of two new master perfumers, Nathalie Lorson and Tony Reichert.