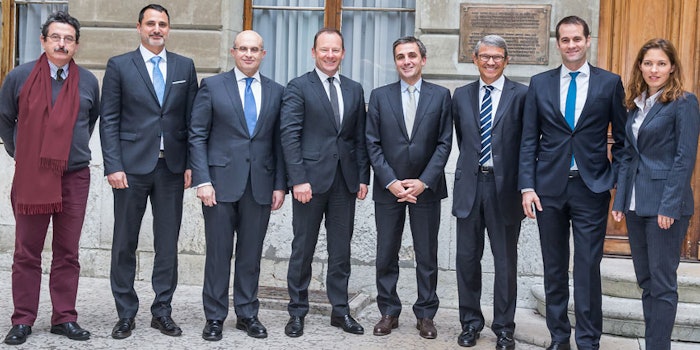 From left to right: Michael Paparou (VP of the Board of Geneva State's Pension Fund); Christophe Décor (General Director of Geneva State's Pension Fund); Gilbert Ghostine (CEO, Firmenich); Serge Dal Busco (State Councilor Finance Department); François Longchamp (State Council President); Patrick Firmenich (Chairman of the Board, Firmenich); Antonio Hodgers (State Councilor in charge of the Planning Department, Housing and Energy); Anja Wyden Guelpa (Geneva State Chancellor). Photo courtesy of Firmenich.
Firmenich is planning to strengthen and expand its global center for innovation and creation, but not without the help of Geneva. Firmenich sold its R&D center in La Jonction, to the State's Pension Fund in order to help with Geneva's urban renewal plan. The company will spend 100 million Swiss francs by 2020 to move the development, creation and support functions from La Jonction to the Meyrin-Satigny campus.
"In 1895, Firmenich began as a true start-up, operating out of Charles Firmenich's garage in La Servette," said Patrick Firmenich, chairman of the Firmenich board of directors. "Very quickly, our activities grew, and in 1898 we moved to La Jonction. Here, our research really took off, leading to today's industry leadership position. In keeping with our pioneering spirit, we are delighted to further our growth by grouping all of our activities in Meyrin-Satigny."
The Future of Firmenich
Currently, the La Jonction location employs 500, which represents 65% of the research and 85% of the intellectual property creation for the company. Firmenich expects that all information will be completely transferred by 2020.
Geneva's state councilor of the department of economy and security, Pierre Maudet said, "By expanding its global research and creation center in Meyrin, Firmenich is boosting the attractiveness and competitiveness of the flavors and fragrances industry in our region. With all business functions under one roof, Firmenich is significantly contributing to a rich talent pool."