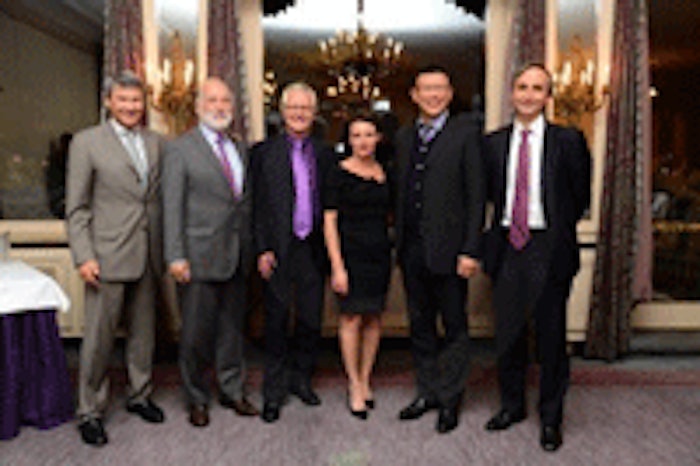 Firmenich honored three of its perfumers, Johannes Feser, Honorine Blanc and Martin Koh, with the title of master perfumer at a private ceremony held in Geneva, Switzerland in the presence of Yves Boisdron, the company's chairman and Patrick Firmenich, CEO.
Blanc, a fine fragrance perfumer working in New York, joined Firmenich in 2005. Her training includes master's degrees in math, physics and chemistry from the Pierre & Marie Curie Institute in Paris and a diploma from Institut Supérieur International du Parfum (ISIPCA) in Versailles, France, where she graduated with honors in 1993. The company said her "relentless attention to detail and her endless passion has resulted in the creation of many best-selling and iconic fine fragrances on the market." 
Feser, home care perfumer who works in Geneva, studied chemistry and geography at the University in Karlsruhe in Germany. He joined Firmenich in Cologne in 1986 and he has created many of the most important market successes, in particular, across various home care categories, according to the company. "His strong reputation with clients and colleagues is built upon his expertise, creativity and a deeply collaborative work ethic," the company noted. 
Koh, body and home care perfumer who works in London, holds graduate degrees in biochemistry and microbiology from the National University of Singapore. He joined Firmenich in 1989 and has achieved major success across a broad scope of categories, creating winning fragrances for soaps and body washes, hair care, laundry and household products. The company said Koh is "appreciated for his role in training several successful young perfumers in the company." 
The title of master perfumer at Firmenich was established nearly 50 years ago by Roger Firmenich and Fred-Henri Firmenich. This honor is given to perfumers who have distinguished themselves through their human qualities, creativity and steady contribution to Firmenich's reputation through olfactive signatures which are recognized benchmarks for success and creativity in the industry.
"I am very proud that our company was a pioneer in firmly establishing this noble distinction within our industry," said Firmenich. "As a 100% family-owned company that is committed to success as a guarantee of continued independence, Firmenich has always been deeply invested in the capabilities of our creators and of our researchers to ensure the highest quality of and creativity to meet and exceed the expectations of our clients."