Sabinsa Cosmetics
20 Lake Windsor
East Windsor, NJ 08520
United States
Sabinsa Corporation, founded in 1988 by Muhammed Majeed, Ph.D., is a company committed and dedicated to the principles of tradition, innovation search.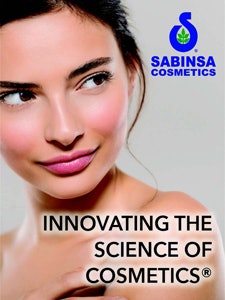 Founded on the modern application of standardized phytonutrient ingredients, Sabinsa has established itself  as a manufacturer and supplier of high-quality herbal extracts, cosme- ceuticals, minerals and specialty fine chemicals. Over the years, Sabinsa has brought to market a number of standardized botanical extracts and privately funded several clinical studies in conjunction with presti-gious institutions in support of these products. Process development and product innovation form the focus of the ongoing R&D efforts in the company's research facilities, located in the U.S. and in India. With more than 120 scientists working full time conducting ongoing research both in India and the United States, Sabinsa continues to develop and patent phytonutrients and cosmeceuticals for the world market. Commercial scale production is carried out at five company-owned facilities in Southern India, which handle product volumes ranging from a few hundred kilograms to several hundred tons. The company also has more than 40,000 acres under cultivation.
Global Presence—Sabinsa has established sales and marketing offices in the U.S., India, Australia, Brazil, Canada, China, Germany, Japan, Poland, South Africa, South Korea, and Vietnam. Agent representation in Far East Asia and South America.    
Key Personnel—Muhammed Majeed, Ph.D. - Founder; Anurag Pande, Ph.D. - Vice President, Scientific Affairs;  Asha Ramesh - CEO, Kavita Subramanian - Sr. Manager
New and Key Cosmeceuticals
LactoSporin® (patented)—Novel cosmeceutical postbiotic; anti-aging, anti-microbial
Olepent® (patented)—Phyto-pentapeptide complex; anti-aging, anti-inflammation, hydration
Boswellin® CG (patented)—Anti-inflammatory, anti-aging
C3 Reduct® CG (Tetrahydrocurcuminoids CG)—Antioxidant anti-aging UVB protectant
Cococin™ (patented)—Moisturizing, anti-aging
Cosmoperine® (patented)—Skin permeation enhancer
pTeroWhite® (patented)—Antioxidant for skin texture and toning sun care formulas
Saberry® (patented)—Antioxidant, skin lightening, UV protectant
SabiWhite® (patent pending)—Skin whitener, antioxidant
Major Markets
Skin care
Hair care
Oral care
Anti-aging
Antioxidant
Natural preservatives
Specialized Services
Identification of new actives
Prototype development
Laboratory screening
Analytical & biochemical evaluation
Claim substantiation
Clinical testing
Non-animal safety & toxicity testing
Formulation development