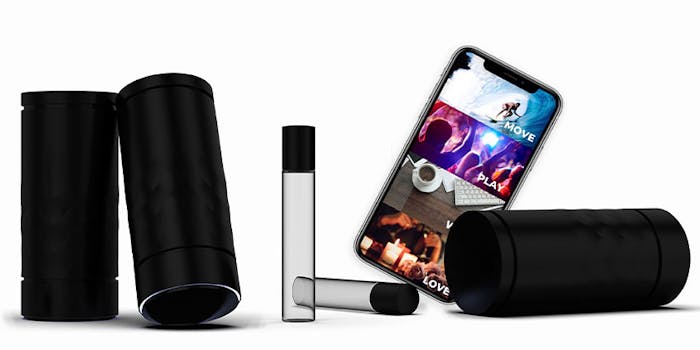 This year the market has experienced a clear shift in focus to personalized fragrances—for instance, WWP x Scientivent Technologies Essence Collection, Louis Vuitton's HypeBae and Bvlgari's Allegra Collection. With hopes to launch in late March 2021, Ninu Perfume says it is on a mission to completely redesign the consumer experience with fragrance. 
With the help of AI, Ninu bottles are programmed to link with a smartphone app. This app has multiple functions including personalizing the fragrance itself, spray and even lock the perfume bottle. 
"The idea is that our users will play with the scents on the app on their smartphone," says Ninu CEO, Marko Matijević.
The brand offers fragrances for both men and women; all are vegan and phthalate-, paraben- and sulfate-free.
While the consumer has the power to create their own unique scent, they won't have to do so alone. The Ninu app will be equipped with suggestions by professional perfumers to help lead consumers to their desired scent depending on their mood or a specific occasion.
For example, Matijević painted a picture of a consumer utilizing a scent for a date. After the date, users can check in with their app and document their experience. Was it too strong? Too gentle? Ninu will adjust accordingly for next time. 
"Our vision is to take into account the seasons, weather and skin type," says the CEO. "We are looking at the fragrance like clothes—you don't wear the same clothes everyday."
By inputting this information after each usage, Ninu's patent-pending technology can purportedly track and improve consumers' well-being levels through adjustments.
"If you look at all of the perfumes on the market right now, they're generic and can only be used for one mood or occasion," says Matijević. "Personalization is the future."
The CEO outlined a common experience with perfume companies that offer personalized fragrances: "You can order a personalized combination, but once you mix it, it's over, and if you don't like [the scent] once you mixed it, too bad."
According to the company, Ninu's technology avoids a finite personalized scent with the use of three different fragrance compartments strategically weaved into a perfume bottle. 
The idea for the Ninu system came up nearly a decade ago, inspired by Slovene inventor Peter Florjančič's conception of the perfume atomiser.
"We thought, 'how can we make this a new innovation here?'" says Matijević. "[The pump] has such a long history of using the same technology, how can we use this?"
It wasn't until three years ago that Matijević and his team of eight experts began developing, building, testing and finalizing Ninu's technology.
Assembling the team proved to be a little tricky. Matijević is stationed in Slovenia, while his team members are scattered around the world. But nothing was as challenging as making the fragrance compartments small enough to fit inside of a perfume bottle without it being too bulky. 
Matijević explains, "We had to make everything synchronize together—the right pressure, and voltage of batteries and nozzles. We wanted it to come as close as possible to a normal perfume." 
Being that the brand's strategy was to develop this product with and for perfume lovers, the Ninu team tapped real-world perfume users for some insight. Social media platforms helped to engage with users on an international level. These conversations were used in Ninu's creation process from topics like colors, dimensions, scents and even functionalities (cue the locking feature).
Matijević says the app-driven locking feature is useful for those pesky siblings and roommates who try and get their hands on users' perfume. This function would also be used to ensure the bottle doesn't accidentally get triggered while traveling or rolling around in a consumer's bag.   
Wanting to also do good for the environment, Ninu utilizes natural ink in packaging cartons, a cartridge refill system featuring recyclable glass for perfume bottles and limiting packaging to scale down plastic consumption. Another step in the eco-friendly direction is to replace instruction leaflets with scannable QR codes for users. 
Ninu's next steps will be to launch a Kickstarter campaign to crowdsource funds for its projected launch in March 2021. 
Want to know everything going on in flavor & fragrance? Sign up for P&F+'s newsletter. You can also follow along on Instagram and LinkedIn.