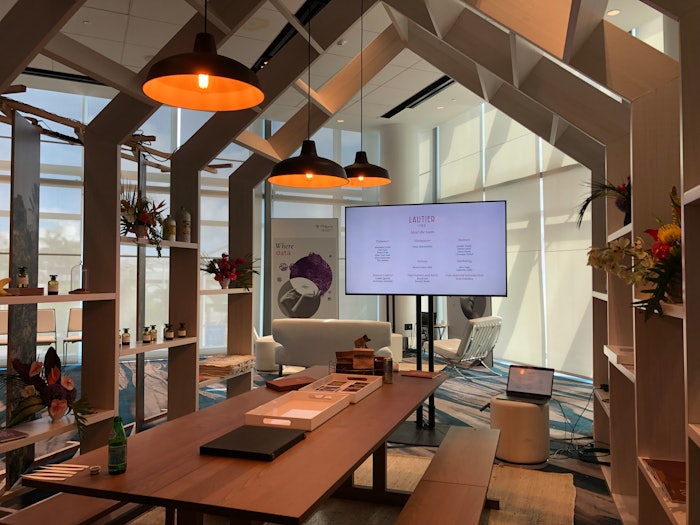 What's old is new. Symrise has simultaneously tapped into leading-edge technology and the fragrance industry's naturals heritage by introducing a new mix of naturals under the recently revived Maison Lautier 1795 banner.
Related: Symrise Presents Augmented Philyra 2.0 at WPC 2022
Lautier Fils of Grasse, France was an 18th, 19th and 20th-century pioneer in the production of naturals such as lavender, bergamot and ylang-ylang. It also led the mechanization of enfleurage, engaged in upcycling before it was a buzzword, and globalized sourcing and production by importing ingredients from 60 countries, establishing sales offices in New York and London, and manufacturing in Beirut. The company was acquired about 40 years ago by Symrise's precursor companies.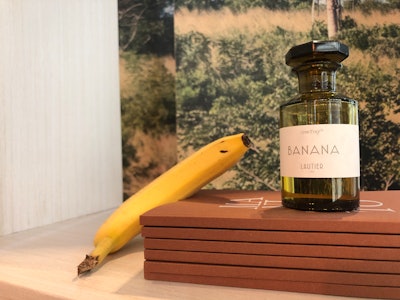 During a private presentation at the World Perfumery Congress, Ricardo Omori, global vice president, fine fragrance, Symrise, discussed the rebirth of the Lautier name and its three pillars—Madagascar, Artisan and Supernature—which expand its palette of grand cru naturals.
He also outlined the Lautier R&D network, which spans Madagascar, the organization's headquarters in Holzminden, Germany, and, as of this summer, Grasse. 
Veronique Ferval, vice president creation, fine fragrances global, noted that the Artisan range "is all about terroir" and comprises bespoke offerings from Symrise's supplier partners, with which the company shares values and maintains longstanding relationships that ensure quality.
Ingredients produced under the pillar include boya oil, sandalwood dréches absolute and orris butter, the latter of which comprises both pallida and germanica varieties. The orris butter has a soft, powdery, full, complex, and mimosa-like and ambrette seedlike impression. Symrise uses an enzymatic process to accelerate the aging of the orris roots to boost irone levels.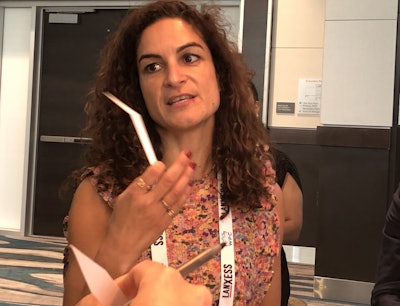 The Supernature pillar, meanwhile, is typified by high-tech ingredients, such as fruit and vegetable materials produced using Symrise's SymTrap low-carbon extraction technology.
The pillar most recently produced new fruit ingredients based on upcycled material derived from the waste streams from other industries.
The new natural and renewable Strawberry SymTrap ingredient delivered an elevated feeling to the fruit, offering a juicy, mouthwatering impression that can serve as a top note. The strawberry starting material is derived from Poland and Austria.
SymTrap banana, meanwhile, was derived from fruit produced in Ecuador. The ingredient, which can be used as more of a middle note, featured a white floral effect, true to the fruit, with an almost caramelized effect.
SymTrap Apple was also very true to the fruit, juicy, sweet, a little jammy, succulent, fizzy, juicy, jam-like and blackcurrant-like, reminiscent of a kir royale/creme de cassis. The source fruit is from Austria and Italy.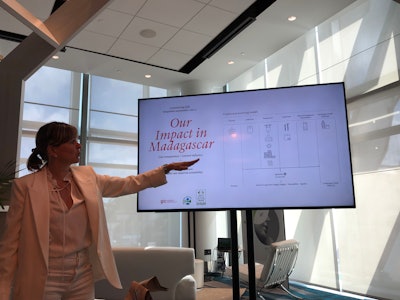 Finally, the Madagascar pillar highlights the company's deep relationships with producers in the namesake country. The Madagascar pillar allows the company to have full transparency for ingredients from farmers to export and sale to, ultimately, the consumer goods industry. In addition to producer relationships, the company operates a production facility in the country.
Symrise currently owns and 200 hectares of cultivated land in Madagascar, devoted to vanilla, mandarin, vetiver and other crops. (In Grasse, meanwhile, Symrise has about 4 hectares of cultivated land for producing rose, jasmine and mimosa.) The presenters noted that materials such as geranium produced in Madagascar have unique facets due to the high soil quality.
During the briefing, Symrise presented its organic-compliant longoza oil (Aframomum angustifolium), the seeds of which produce a material that is very fresh, bright, sparkly, peppery, cardamom-like and ginger-like. Symrise fine fragrance perfumer Nathalie Benareau described the material as a "cold spice."
As these materials and product pillars show, the revived Maison Lautier 1795 connects the craft of the past with innovations of the future.