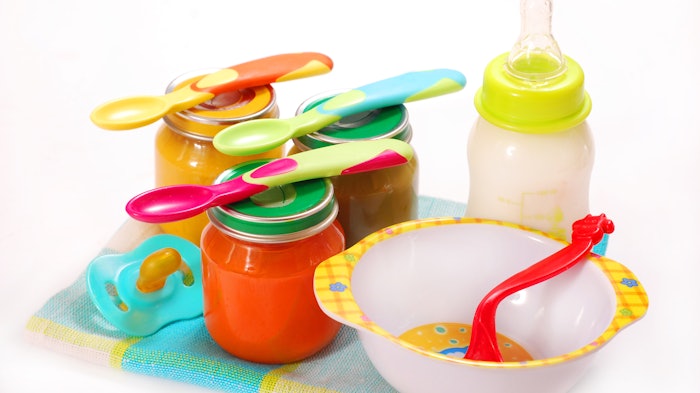 According to a report by Millipore Sigma*, the FDA has developed the Closer to Zero program with the aim of studying heavy metal levels in commercially available baby food, as well as assessing potential risks and set standards and guidance regarding safe levels for baby food.
Related: Report Linker: Encapsulated Flavors & Fragrances Global Market Value
Closer to Zero focuses on four elements with known toxicity for children and infants: arsenic, cadmium, mercury and lead.
An investigation of commercially available baby foods, published in February 2021 by the US House of Representatives**, reported arsenic levels as high as 180 ppb, and over 900 ppb in individual ingredients. The report also found some baby foods to have lead concentrations over 640 ppb, and individual ingredients having over 800 ppb.
Levels in ingredients in cadmium exceeded 340 ppb. The report also found that most producers in the industry do not test for mercury and for those that did test, found mercury levels of up to 10 ppb in finished food. The report determined that because there was no regulatory limit of toxic metals in baby food, the products could still be released into the market even if those identified levels were above the participating companies' internal policies.
The Closer to Zero program sets several goals for the FDA in regulating toxic metals in baby foods, including mandatory toxic metal testing for ingredients, finished products and setting standards for toxic metals. The program also encourages baby food producers to phase out higher-risk ingredients. This phase-out could create opportunity for the flavor industry where, in reducing and removing higher-risk ingredients, the industry may turn to flavorists to maintain or improve palatability safely.
As regulatory agencies gather data and establish standards and regulations to ensure health and safety, flavor producers should also review their ingredients for toxic metal and pesticide levels to ensure all regulatory requirements and safety recommendations are met for baby food products.
References:
*https://bit.ly/30rZSmj
** 2021. 117th Congress. [Internet]. House Committee on Oversight and Reform.[cited 26 Oct 2021]. 

Want to know everything going on in flavor & fragrance? Sign up for P&F+'s newsletter. You can also follow along on Instagram and LinkedIn.