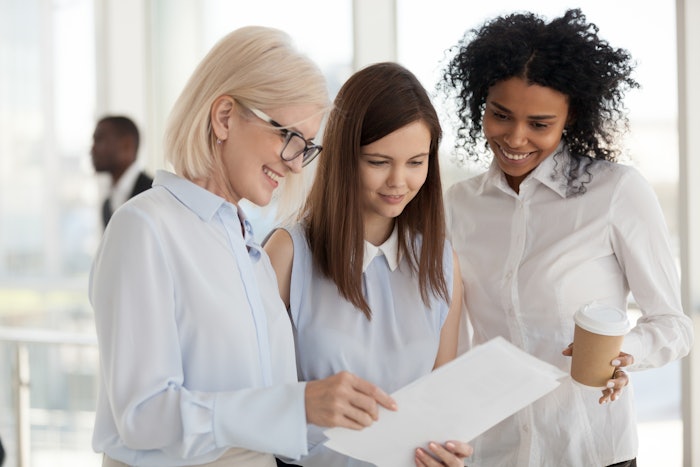 Dreamstime
Women in Flavor and Fragrance Commerce (WFFC) has announced its 2023 Board of Directors. 
Related: IFF Welcomes Dawn Willoughby to Board of Directors
The board members are as follows:
New Jersey Executive Board
President: Adriana Becker, Capua 1880 USA, Inc
Vice President: Natasha Reed, Berje Inc.
Treasurer: Christina Meyers, Symrise Inc
Secretary: Linda Bukowski, Belle Aire Creations 
Immediate Past President: Erica Lermond, The Lermond Company, LLC
New Jersey Board of Directors
Cathianne Leonardi, Coca-Cola
Rosanna Santoro, IFF
Christina Smith, Virginia Dare Extract
Jill Stessl, Robertet Fragrance and Ingredients
Bryn Thomas, Givaudan
Candice Ziehl, Kerry
Bayyana Davis, IFF
Olena O'Neill, Flavor & Fragrance Specialties
Kim Bendickson, Kerry


Cincinnati Executive Board
President: Deborah Coviello, Illumination Partners, LLC
Vice President: Marissa Piazza Pasky, Givaudan Taste & Wellbeing
Treasurer: Erica Boyd, Givaudan Taste & Wellbeing 
Secretary: Lew Weeks, ADM Wild Flavors
Cincinnati Board of Directors
Alexandra McClatchie, ADM Wild Flavors
Holly Mason, ZoomEssence
Kayla Hill, Givaudan Taste & Wellbeing
Melissa Long, Givaudan Taste and & Wellbeing
Alyssa James, Flavor Producers
Kelly Stirsman, Mane Inc
Janine Gage, ADM Wild Flavors
Darienne Bils, ADM Wild Flavors
Avery Johns, ADM Wild Flavors
Sarah Lucas, ADM Wild Flavors
Cindy Coleman, ADM Wild Flavors

Chicago Executive Board
President: Kelli Heinz, Bell Flavors & Fragrances, Inc. 
Vice President: Lindsey Oostema, Synergy Flavors, Inc.
Treasurer: Lisa Drawer, MBA, Independent
Immediate Past President: Mary Maile, Synergy Flavors, Inc
Chicago Board of Directors
Paulina Costa Syskowski, MBA, Kalsec, Inc
Jane Pinda, Ele' Corporation
Renee King, Bell Flavors & Fragrances, Inc
Melanie Brady, Imbibe, Inc
Ilana Orlofsky, Imbibe, Inc
Daniela Alvarez, Orchidia Fragrances
Grace Buhler, Flavor & Fragrance Specialties
Rebecca Genovise, Synergy Flavors, Inc


WFFC is a non-profit organization that serves as a global platform for women in the flavor and fragrance industry. Founded in 1982, its main goal is to empower and support its members through various initiatives including networking events, educational programs and advocacy efforts. 
The association acts as a hub for female professionals in the field to connect, grow and succeed, promoting the advancement of women in the industry. Currently standing at about 500 members strong, it's still acquiring new members. 
Want to know everything going on in flavor & fragrance? Sign up for P&F+'s newsletter. You can also follow along on Instagram and LinkedIn.