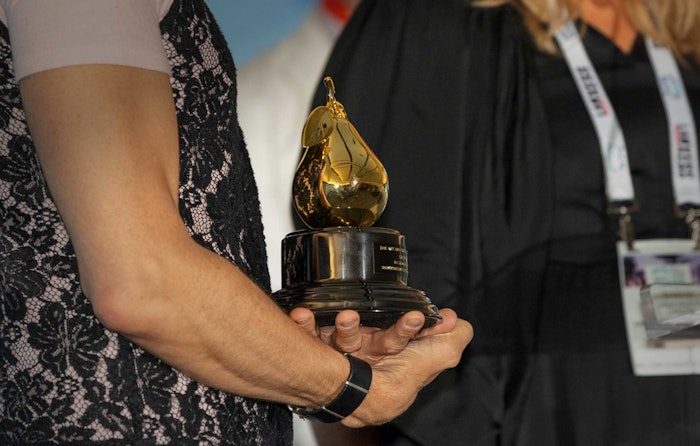 Patricia Laylle
The Institute for Art and Olfaction has announced the finalists for the 9th Art and Olfaction Awards. This event aims to promote public interest and awareness of the latest developments in perfume and recognizes outstanding creators in the independent, artisan and experimental perfume categories. The awards acknowledge a diverse range of styles and techniques, honoring creators from various backgrounds and perspectives.
The Art and Olfaction Awards' Golden Pear statuette is presented annually to eight deserving recipients at events held in different cities across the globe. The announcement of the winners will take place in the institute's annual public ceremony, hosted in Los Angeles within the Cicada Club on May 11, 2023, during Scent Week Los Angeles.
This year's jury included Ashley Eden Kessler, Jeffrey Paul, Julianne Lee, Maxwell Williams, Rubia Chaudri, Sarah Horowitz-Thran, Spyros Drosopoulos, Chi Wai Tang, Dana El Masri, Daniel Krasofski, Ida Meister, John Biebel, Lakenda Wallace and Minetta Rogers. The Sadakichi Award was juried by Darin Klein, Kaya Sorhaindo, Klara Ravat, and Simon Niedenthal. The Aftel Award for Handmade Perfume was selected in a separate blind judging process by Jean Godfrey June, Jessica Matlin and Mandy Aftel.
Independent Category Finalists
Animal Café, by ExtraVirgo | Perfumer: Michele Marin for ExtraVirgo, Italy | Creative Director: HH. Prince Alex of Limbin     
Flamingo, by Blackcliff | Perfumer: Kyle Mott Kannenberg for Blackcliff, Barbados | Creative Director: Tomilson Bynoe
Fuchsrot Men, by Bodé Studios | Perfumer: Andreas Wilhelm for Bodé Studios, Switzerland | Creative Director: Lino Bottani 
Hora de la Verdad, Sombra, by Senyokô |Perfumer: Euan McCall for Senyokô, France | Creative Directors: Joseph and Eglantine Berthion
Ierofante, by Parfums Quartana | Perfumer: Luca Maffei for Parfums Quartana, USA | Creative Director: Joseph Quartana
Los Angeles, by de Kloka X Death & Co | Perfumer: Jackie Brenner for de Kloka X Death & Co, USA | Creative Directors: David Kaplan and Nick Fauchald
Mansa, by Pernoire | Perfumer: Andreas Wilhelm for Pernoire, Switzerland | Creative Directors: Robin Dünner and Nico Mannino
Room No., by Perfumehead | Perfumer: Constance Georges-Picot for Perfumehead, USA | Creative Director: Daniel Patrick Giles
Tri-Goddess, by Sage Goddess | Perfumer: Alexandra Bisson for Sage Goddess, USA | Creative Director: Athena Perrakis
Wind Blows, by QIUHAO | Perfumer: Yili Olfactory Art for QIUHAO, China | Creative Director: Qiu Hao & Huang Jun
Artisan Category Finalists
Alter Oud, by d.grayi | Perfumer: James Miju, USA
Encore du Temps, by Meo Fusciuni | Perfumer: Giuseppe Imprezzabile, Italy
Filament, by nosey people society | Perfumer: Breanne Patterson, USA
Garden Heaux, by SAMAR | Perfumer: Na-Moya Lawrence, USA
La Tacita De Cafe, Extrait, by Day Three Fragrances | Perfumer: Michael Paul, USA
Osmanthus Floral, by Rebel Perfume / Neshama Perfume | Perfumer: Simon Shaer, UK
Solario, by OSMOFOLIA | Perfumer: Sab Finn, USA
Tobacco Smeraldo, by Miguel Matos | Perfumer: Miguel Matos, Portugal
Tatami Dreams, by Tavie Belle | Perfumer: Lavinia Cheng, China
Voices, by House of Mammoth | Perfumer: Benjamin Esposito, USA
Sadakichi Award Finalists
Aerosculpture, by Maki Ueda | Perfumer: Maki Ueda, Japan
Aquanauts, by Pompe Hedengren | Perfumer: Karolina Stockhaus, Sweden
Lágrimas, Terra e Crisântemo, by Karola Braga | Perfumer: Leandro Petit, Givaudan 
NEGR-OID, by Rhea Dillon | Perfumer: Rhea Dillon, UK
Salt Flowers, by Peter de Cupere, | Perfumer: Peter de Cupere, Belgium
Scent Clock / The Koepenicker, by Patrick Palcic | Perfumer: Patrick Palcic Studio, Germany
Discretionary Awards
Aftel Award for Handmade Perfume: This award will be given to one outstanding small batch perfume that was 100% perfumer-created, in-house, with no use of outsourced compounding or expansion at any stage of the process.
Contribution to Scent Culture Award: This award will be given to one outstanding person who made significant contributions to global public awareness of artisan, independent and experimental practices with scent in 2019.
Septimus Piesse Visionary Award: New to the awards this year, this award will be given to an outstanding person showing proof of exceptional vision with regards to how scent is used, developed, or imagined.