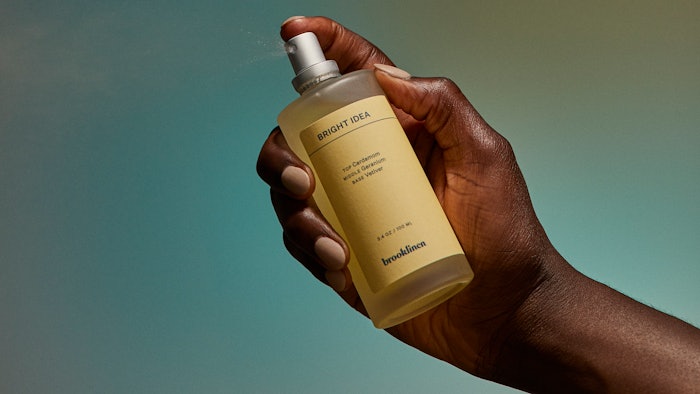 C/O BROOKLINEN
In the last two weeks, Perfumer & Flavorist+ has been flooded with news of fragrance products making their way to the shelves. From fine fragrances and candles to sustainable packaging and holiday exclusives, here are the latest headlines in fragrance launches.
The eight candle scents include:
Happy Hour offers scent notes of mandarin, lavender, rosemary, oak and eucalyptus.
Bright Idea offers scent notes of geranium, vetiver and cardamom.
Gather offers scent notes of cedar, vetiver, amber and warm citrus.
Rise offers scent notes of bergamot, black tea and Himalayan sea salt.
Restore offers scent notes of wild berries, musk, sandalwood and violet.
Interlude offers scent notes of violet, guaiac wood, vanilla and patchouli.
Dulce offers notes of two kinds of vanilla, nude musk and hinoki wood.
The Decades collection features four fragrances, representative of each decade:
60's Couture is described as featuring "bright top notes of bergamot and pink pepper, a romantic floral heart of violet and rose, and a sensual grounded dry down of amber and patchouli."
70's Couture  is described as featuring "heady spice top notes of cardamom and mate tea, a warm heart of saffron and suede, and the velvety dry down of musk."
80's Couture is described as featuring fresh fruity top notes of mandarin, a floral bouquet heart of gardenia and orange blossom, and a dry down of rich tonka bean and cozy cashmere.
90's Couture is described as featuring top notes of lush peach nectar and Italian bergamot, a heart of jasmine sambac, and a warm woody dry down of sandalwood and vanilla bourbon.

Dermstore provides an assortment of beauty and skin care products. The Fragrance Shop offers luxury and prestige fragrances covering a variety of eau de perfume, eau de toilette, cologne and body care, from brands including Glasshouse, Memo Paris, Ellis Brooklyn, Hermetica and more. 
The Silver Radiance program is designed to help improve the quality of living while aging, through emotional, behavioral and physical benefits. The first step of this program was introduced through the Silver Radiance solutions, said to bring concrete tailored innovations to this population, from better sleep to higher energy levels.
Apple Picking in the Hudson Valley
offers scent notes of red apples, cider doughnuts and cinnamon.
L'Occitane Travel Retail has announced the forthcoming holiday campaign in December which will feature an inspirational advent calendar, as well as nature-inspired sustainable travel retail exclusive offers and innovative gift compositions.
L'Occitane en Provence has carried out a successful trial of 100% recycled PET using Loop Industries' technology at their factory in Terrebonne, Quebec. The pilot project, which was trialed on a mini-series of 2,000 bottles of shower oil in the almond range, is a significant milestone in the partnership between the two companies.