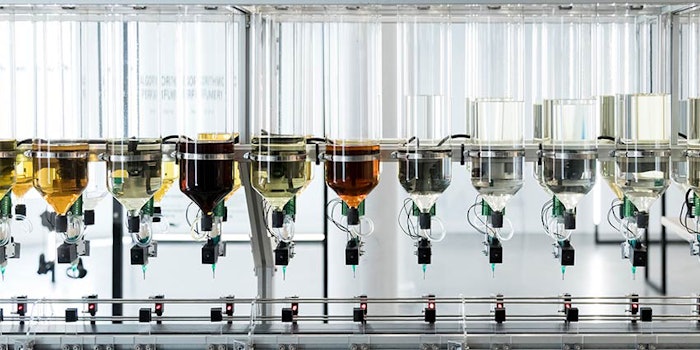 ScenTronix Inc, a U.S.-and Netherlands-based technology company, has announced the American public launch of Algorithmic Perfumery, which is coming to New York and will feature an opening night event on February 7, 2020.
Ace Hotel New York, in the NoMad neighborhood Midtown, will also showcase the experience during Fashion Week from February 7 to February 13, 2020. Visitors will be able to create a highly-personalized custom perfume using a cutting-edge system supported by artificial intelligence. This experience is set to return in the spring with a three month pop up.
Related: FCA Launches The Fragrance Conservatory
A public beta test of the system is also taking place through 2020 in a storefront in Breda, Netherlands.
The goal of Algorithmic Perfumery is to make perfumery a people's medium by providing development in the movement toward access–to perfumers, materials and production capabilities–by offering hyper-personalization, immediate production and accessible prices.
ScenTronix's system, which uses ingredients in a partnership with IFF and IFF-LMR, makes use of an exclusive palette of raw materials, including state of the art molecules and stunning naturals. Visitors to Algorithmic Perfumery are invited to fill a brief survey and then they watch as a sensory machine creates variations of their scent. Then visitors are invited to evaluate the perfume trials, make creative decisions, and–if they choose–produce a final version. 
"Algorithmic Perfumery uses technology to allow people to have a highly personalized and meaningful experience with their senses" said ScenTronix founder Frederik Duerinck. "What we offer is, at its most simple, a platform for people to co-create their own perfume. We hope that this interactive, playful experience will allow them to discover and enjoy new aspects of themselves, and a new outlet for their imagination."