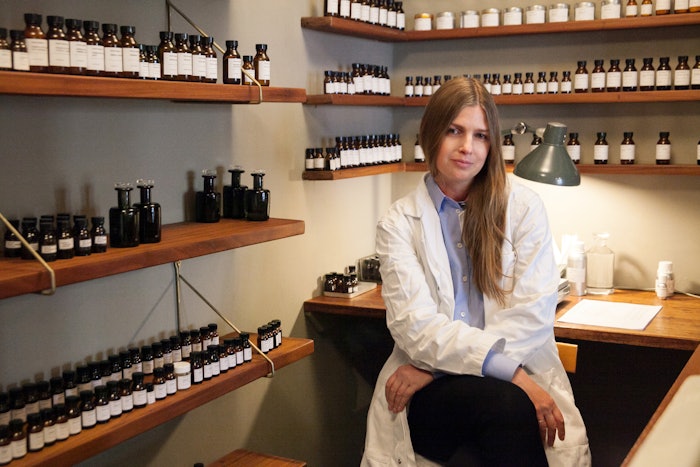 C/O Perfumer H
British perfumer Lyn Harris of Perfumer H collaborated with auction house Sotheby's for a line of exclusive signature candles.
Related: Perfumer H Releases Savory Scents With Matching Food
Inspired by the Grasset Collection, part of the Old Masters Evening Auction that took place in early December, the three candles serve as a "dense, visual experience" that perfumer Harris spun into a textured fragrance. The scents include Rose With Insects, Bird and Lemon, and Smoke in Woods.
Part of the Grasset Collection is Osias Beert the Elder's "Still life of roses in an oriental lacquer and canework bowl, on a ledge with a butterfly and dragonfly". It features 12 different varieties of summer roses, from white to damask and everything in between.
Harris took inspiration from this and other masterworks to bring her candles to life in a more abstract manner. For the candle scent Rose With Insects, she used no rose fragrance at all in her interpretation. Instead, she used a base of patchouli, cade (distilled from juniper wood), birch tar, and a touch of amber.
"You see, in perfumery, it's very like colors in art," Harris told Sotheby's. "You can't just use rose, you have to use spices. You have to use a little bit of fruit. You have to use a little bit of citrus, you have to use a bit of green, you have to use a bit of the balms."
For Bird And Lemon, inspired by a still life from Peter Binoit, Harris used a "central focus" of white grape and apricot with golden resins of myrrh, frankincense, and opoponax as well as notes of clove and nutmeg on a base of cedar wood and oak.
With Smoke in Woods, Harris took inspiration from a work of art from Abraham Govaerts, depicting travelers on a path alongside a wooded river area. Inspired by the "light of a distant log fire", the scent combines sandalwood, birch tar, and smoldering cade with green oak and cedar wood. It comes together with juniper, black pepper, and frankincense for an intense finish.
All three candles, each housed in hand-blown glass containers by glassblower Michael Ruh, make for an intriguing scent journey that works in parallel with each painting. They were on display and for sale alongside the Old Master artwork that inspired them earlier this month at Sotheby's New Bond Street.  
Want to know everything going on in flavor & fragrance? Sign up for P&F+'s newsletter. You can also follow along on Instagram and LinkedIn.