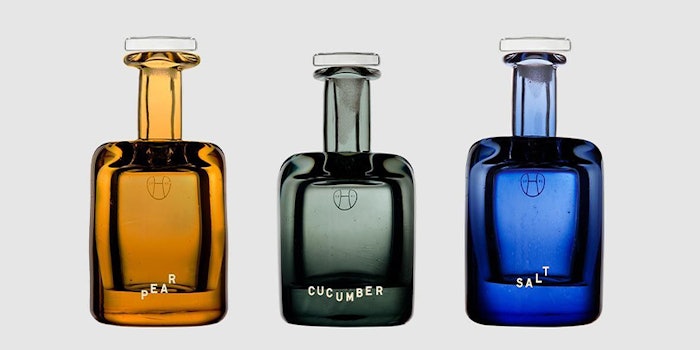 The newest line of perfumes from Perfumer H are inspired by savory foods. Each perfume comes with a complementary food that pairs with the scents in the fragrance.
Related: Loewe Announces Home Fragrance Collection.
Lynn Harris, creator of Perfume H, works with producers such as specialty spice house, Epices Roellinger, to create the foods. 
Related: Candlemaker Creates Chicago Inspired Scents.
The perfume scents and paired pantry item include: 
Cucumber: bergamot, watermelon, lemon, cedarwood and sea moss, complemented with pickled cucumbers flavored with lemon and juniper
Pear: bergamot, mandarin, white pear, rosewood, sugared musk and vanilla, complemented with a violet leaf tea
Salt: rosemary, coriander, white sage, cardamom, patchouli and cistus absolute, complemented with a blend of salts.