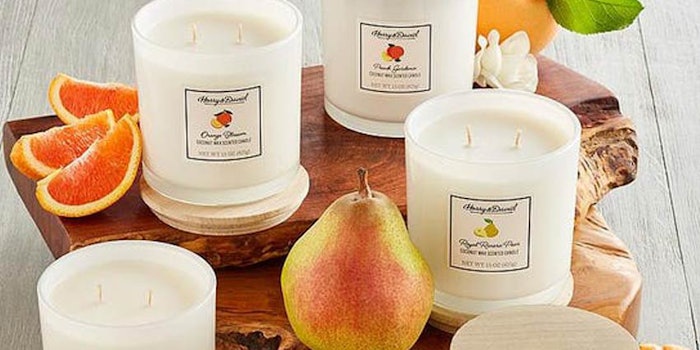 According to PRNewswire, the global air freshener market is expected to grow at a CAGR of 7%, reaching $5.02 billion during the forecast period of 2021-2025.
Related: Latest Fall Scent Launches
Here are some of the latest launches of themed air care products freshening up homes:
Bath & Body Works launched its 2021 Halloween collection, including Happy Halloween Hand Soap (marshmallows, candy corn and citrus), Haunted Nights Three-Wick Candle (sage, mahogany and verbena) and Pumpkin Carving Three-Wick Candle (pumpkin, spiced pumpkin seeds and brown sugar).
Candle-lite Company launched the Essential Elements CBD candles and wax melts. The CBD fragrances include:
Bed, I Love You with notes of lavender, verbena, fresh lemon, eucalyptus, jasmine, warm vanilla sugar and sandalwood.
Good Vibes Only with notes of mahogany, teak, sandalwood, oakmoss, pepper, lavender, fresh greens and apple.
Breathe with notes of rosemary, mint, eucalyptus, white floral, wood forest and lavandin.
Binge Watch & Chill with notes of honey nectar, almond milk, caramel, sandalwood, sweet vanilla, orange, tonka bean and amber.
Weekend Ready with notes of turmeric, sparkling ginger, zesty mandarin, clove, eucalyptus, neroli and fir needles.
Slay All Day with notes of grapefruit, sparkling ylang-ylang, lush greens, waterlily, sea salt, sunny citrus and cedarwood.
Disney is celebrating the 70th anniversary of Alice in Wonderland with a collection that includes a 10 oz gardenia-scented wax candle.
Great Jones and Harlem Candle Co. launched the Great Jones Distillery's signature scent in candle form. The candle offers a heart of golden saffron, licorice, plum blossom and tobacco leaves with a base of palo santo and patchouli. It also features vanilla and dark chocolate hints.
Harry & David launched a candle collection featuring five food-inspired scents. Cozy Vanilla Spice includes notes of nutmeg, vanilla and spicy clementine. Pumpkin Spice offers the warm aroma of pumpkin spice. Orange Blossom offers scents of sweet citrus. Peach Gardenia includes sweet floral and fruity notes. Royal Riveria Pear is sweet and fresh with fruity and floral notes.
Homesick and Budweiser collaborated on the Backyard BBQ candle, a limited-edition fragrance with a musky aroma and notes of allspice, barley and smoke.
Homesick also revealed the Tropical Escapes collection, including the Great Barrier Reef (citrus and seaweed) and Galapagos Islands (prickly pear and cedar mix with volcanic ash).
Ikea announced the Huvudroll candle as part of an Ikea Store in a Box package aimed at recreating the sensory experience of visiting an Ikea store. The candle is intended to mimic the smell of the company's iconic Swedish meatballs.
Literie has launched its newest candle scent, I Have A House in the Hamptons, featuring notes of rosé and melon. Recent additions to Literie's themed candles include their pizza-scented candle with notes of tomato and basil, and their NYC Marathon candle featuring notes of oakmoss and amber.
Pura and Caswell-Massey collaborated with IFF and Yellowstone Forever to create a smart diffuser set featuring two new fragrances, Old Faithful (woody, spicy fragrance) and Lake (citrus floral fragrance).
Bath & Body Works launched their holiday collection with old and new scents in a variety of forms, including parfum, soaps and candles. Scent notes include floral, citrus, sweet sugar, spicy cinnamon, blonde wood, toasted coconut, vanilla musk, whipped cream and more.
Homesick launched a collection of candles designed for each Zodiac sign to capture the uniqueness of each astrological sign. Scent notes include jasmine, rosemary, lemon, mandarin, coconut, tobacco, bergamot, amber, patchouli and more.
Footwear brand Havaianas launched a collaboration with Oreo that includes chocolate-scented flip-flops.
As part of its 60th-anniversary celebration, Diptyque launched a limited-edition collection of scents inspired by winter and the holidays, including fragrances, candles and diffuser sets. Scent notes include spices, pinewood, rose, patchouli, musk and more.
Want to know everything going on in flavor & fragrance? Sign up for P&F+'s newsletter. You can also follow along on Instagram and LinkedIn.