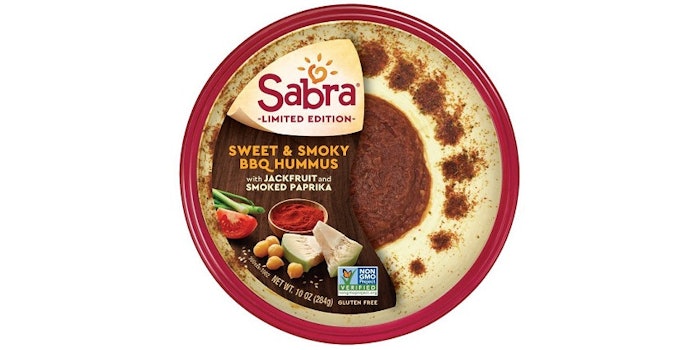 Sabra Dipping Company has announced the release of a new limited-edition hummus flavor, sweet and smoky BBQ hummus with jackfruit and smoked paprika.
"If you love the flavor of barbeque and are seeking more plant-based foods you can enjoy and feel great about, we think you will really want to try this hummus," said Ruo Jing, brand manager at Sabra.
Available from spring to October, the latest flavor of hummus will feature a classic hummus taste with smoked paprika and a garnish of shredded BBQ jackfruit, which provides texture and sweetness. Additionally, the hummus is created to be non-GMO, gluten-free, kosher, 100% vegan and contains natural flavors.
"This recipe was also influenced by insights derived from social media. We relied heavily on influencer input and the conversations food enthusiasts are having online to inspire this delicious limited-edition variety. We are thrilled to bring a plant-based hummus with the delicious flavors of BBQ to the table and look forward to hearing feedback both online and offline," said Ryan Saghir, digital marketing director at Sabra.