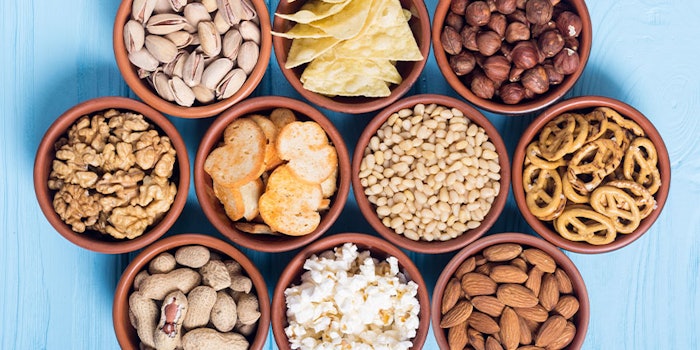 With a new year comes new snacking options, and as consumers snack more, companies are launching new products to keep up.
Here are some of Perfumer & Flavorist+'s mouth watering favorites:
Reese's has announced the launch of Organic Reese's Peanut Butter Cups, available in dark and milk chocolate. The USDA organic, non-GMO snack will be available in a 1.4 oz pack for $1.99.
Ben & Jerry's has added to its vegan line of ice creams, making Americone Dream and Karamel Sutra in an almond milk non-dairy version. 
Hope Foods has expanded its plant-based cashew and almond dip line with a new flavor, vanilla bean. The new vanilla flavor is made with real vanilla beans and natural flavoring.
Chubby Snacks has announced the launch of its revamped sandwich with newly added flavors. Shaped liked a cloud, the sandwich will be available for $32. Flavors include almond and sunflower butter paired with either blueberry or strawberry jam, as well as peanut butter and strawberry or blueberry jam.
Snyder's of Hanover has announced its three new Twisted Pretzel Sticks flavors: Jalapeño Ranch, Sour Cream & Onion as well as its new and improved Seasoned flavor. The 12 oz bags retail for $3.89 and are available in stores now.
Pringles is set to launch a new chicken karaage flavored chip in Japan. The latest crafted flavor, Karaage Aji, is inspired by the Japanese dish, which is made up of fried bite-sized pieces of chicken thigh, marinated with soy sauce, sake, ginger and garlic. 
Kellogg's Pop-Tarts has released its limited-edition Lemon Groove Pink Lemonade Pop-Tarts. The Pop-Tart contains a pink lemonade-flavored frosting within, and retail for $3.68 per 16 count box.
Want to know everything going on in flavor & fragrance? Sign up for P&F+'s newsletter. You can also follow along on Instagram and LinkedIn