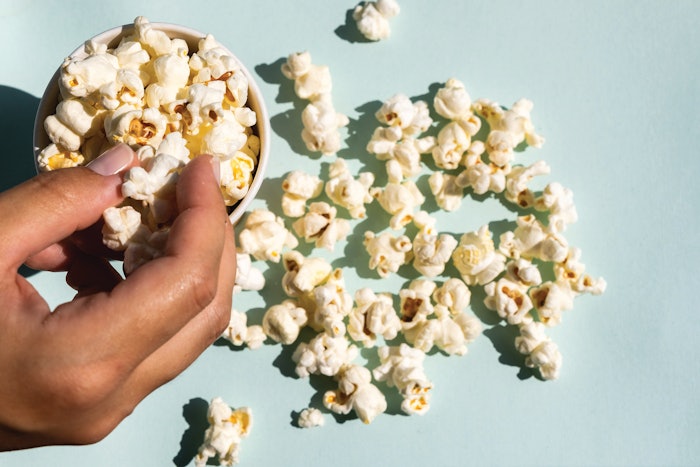 Materials featured in January 2023's column were provided by Vigon, Sigma-Aldrich, Penta, Synerzine and Bedoukian. Want to have your material reviewed by the panel? Email Paige Crist at pcrist@allured.com.
Propyl caproate, natural
Source: Vigon
FEMA# 2949, CAS# 626-77-7
Natural occurrence: Apple, apricot, Asian pear, Parmesan, provolone, Gruyere, durian, orange juice, grapefruit juice, grape, passionfruit, pawpaw, peach, peas, rum, whiskey, wine.
Odor: @ 1%. Pineapple, fruity, waxy, slightly musty, rum, cognac, fatty, heavy, tropical and slightly cheesy.
Taste: @ 1 ppm. Soft, fruity, slightly sweet, light green, waxy.
Taste: @ 2 ppm. Waxy, fruity, pineapple, somewhat musty, sweaty, grape, floral, heavy, tropical.
Possible applications: The panel felt that this ester contributes a very nice green note for multiple uses, but particularly for tropical profiles. There were lots of mentions of pineapple, generic tropical and also guava, mango, and passionfruit. Other mentioned fruits included apple, pear, grape and strawberry. The panel also think that this would work in some aged cheeses and white wine.
Vigon: www.vigon.com

Propyl levulinate
Source: Sigma-Aldrich
FEMA# 4480, CAS# 645-67-0
Natural occurrence: Brandy.
Odor: @ 1%. Heavy, earthy, gassy, smoky, brown, fermented, cask-like, slightly resinous and olive-like.
Taste: @ 1 ppm. Earthy, sweet, slightly resinous, vanilla, slightly creamy.
Taste: @ 3 ppm. Sweet, creamy, brown, woody, smoky.
Possible applications: The panel felt this would work in a vanilla or cask-like environment. Maybe in maple and also in caramel or sugar cookie. It would definitely would work in rum, sherry and wine. It might be worth trying in green olive profiles.
Sigma-Aldrich: www.sigmaaldrich.com
For the full article, please check out the Perfumer & Flavorist+ January 2022 issue.