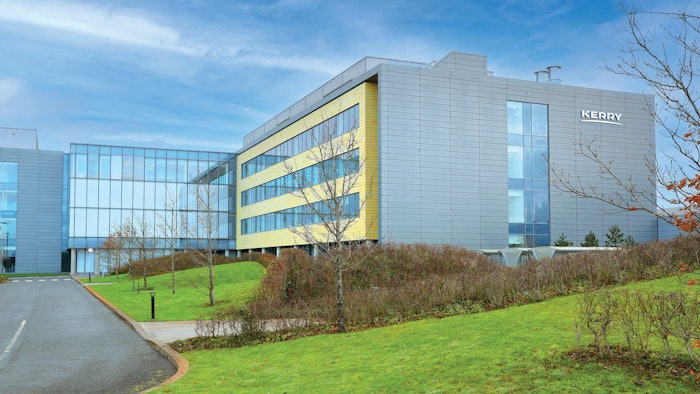 C/O KERRY
Kerry has released its financial report for Q3 2022, detailing strong organic growth over the last year.
Related: Kerry Launches Sherex Supreme Hard-pack Ice Cream Texture System
Highlights of the report include:
Group reported revenue increased by 16.1% in the period. This comprised of business volume growth of 6.6%, increased pricing of 10.6%, a transaction currency tailwind of 0.2%, a translation currency tailwind of 6.6%, with the contribution from business acquisitions of 4.8% partially offset by the impact of the business disposal of the Consumer Foods Meats and Meals business of 12.7%.
Overall volume growth of 8.5% with strong Q3 growth of 8.2%.
Snacks, Meat, Bakery and Beverage markets all achieved very strong growth.
Pricing of 7.5% reflected the pass-through of increases in input costs.
Taste & Nutrition delivered strong volume growth through the period across all regions, despite the effect of increased pricing.
The food service channel continued its momentum with strong double-digit volume growth. This growth was underpinned by increased LTO and seasonal offerings, combined with solutions to reduce operational complexity.
The retail channel also continued to deliver strong growth with customers looking for increased innovation and renovation to offer new taste experiences within categories, as well as reducing food waste and providing more value options to consumers.
The growth achieved across Kerry's food and beverage EUMs was supported by the overall performance of its key growth platforms. Authentic taste continued to deliver very strong growth, with Tastesense salt and sugar reduction technologies deployed across a number of Savory and Dairy applications.
Plant-based performed well in spite of a slowdown within the category. Demand continued to be strong for Kerry's range of food waste solutions, while proactive health performed in line with expectations given the elevated demand in the prior year.
Business volumes in emerging markets increased by 12.3%, as strong growth in LATAM, the Middle East, and Southeast Asia was partially offset by challenging conditions in China.
Americas Region
Overall volume growth of 9.3% with excellent Q3 growth of 9.6%.
Growth led by Beverage, Meat and Bakery markets.
LATAM delivered very strong growth led by Brazil and Mexico.
The strong growth in the retail channel was driven by innovation activity across Beverage, Meat and Bakery markets in particular.
Within LATAM, Brazil and Mexico delivered very strong growth. Volume growth in Brazil was driven by performance in Meals and Meat, while volumes in Mexico were led by growth in Beverage and Snacks with strong wins in authentic taste.
Europe Region
Overall volume growth of 6.2% with Q3 growth of 4.4%.
Volume growth led by Snacks, Dairy and Meals markets.
Growth led by Central and Southern Europe.
In the period, performance in Snacks, Dairy and Meals led to broad-based growth across food and beverage markets. Snacks achieved very strong growth with Kerry's Tastesense salt reduction technology portfolio, driven by increased customer focus on enhancing their products' nutritional profiles.
From a geographical perspective, growth was strongest in Central and Southern Europe, while performance in Eastern Europe was impacted by the ongoing war in the region. As previously announced, the divestment of the Group's Russian subsidiary was also completed during the period.
APMEA Region
Overall volume growth of 9.0% with continued strong Q3 growth of 8.6%.
Volume growth led by Snacks, Meat and Bakery markets.
Growth driven by the Middle East and Southeast Asia, partially offset by China.
Growth in the region was primarily driven by very strong performances in the Middle East and Southeast Asia, led by excellent growth in food service as well as Snacks and Bakery within the retail channel. In China, performance was constrained by localized restrictions which continued to be a feature throughout the period.
Dairy Ireland
Overall volume growth of 1.8% with Q3 performance of 1.0%.
Pricing of 36.6% reflected significant increases in dairy prices and other input costs.
EBITDA margin reduction of 190bps driven by the impact of passing through input cost inflation.
Within Dairy Consumer Products, the significant price increases led to lower overall category volumes. Within the spreads category, good performance was achieved across our customer-branded ranges. Volumes in cheese snacking were impacted by reduced promotional activity in the period.
Dairy Ingredients delivered volume growth while prices remained significantly higher as a result of constrained global supply dynamics.
Edmond Scanlon, chief executive officer, said, "We achieved excellent growth across the period through a combination of strong business volumes and pricing, as we continue to manage through this unprecedented inflationary pricing environment in collaboration with our customers. Our volume growth was broad-based across our regions, channels and markets, led by excellent performances in Snacks, Beverage, Meat and Bakery in particular. We also made good strategic progress with further footprint expansion and strategic acquisitions. While we recognize the current level of uncertainty in the marketplace, we feel very well positioned as we continue to support our customers in addressing the various market challenges and opportunities. Given we have now reported the third quarter, we are updating our full-year earnings guidance to 6% to 8% growth on a constant currency basis."
Want to know everything going on in flavor & fragrance? Sign up for P&F+'s newsletter. You can also follow along on Instagram and LinkedIn.