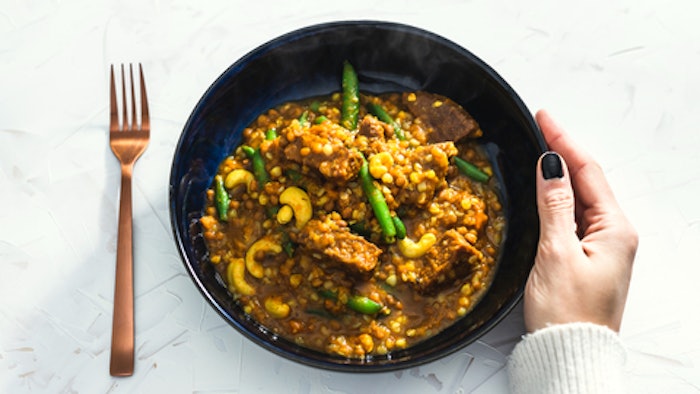 Dreamstime
Bühler, Cargill and Givaudan have announced their partnership to help accelerate start-ups that are innovating in plant-based protein, to address the needs of a growing global population.
Related: Givaudan, Bühler, Cargill, Ital & the FoodTech Hub LATAM Launch Tropical Food Innovation Lab
During the program, start-up companies that register and submit their project will gain visibility to the larger plant-based protein ecosystem and be able to network and collaborate with others on a similar journey. One winner and one runner-up will be chosen and provided ongoing support that will help them scale their product for market introduction.
The Scale It Up! Innovation Challenge will provide resources, mentorship and expertise to start-ups with innovative solutions for plant-based meat or seafood alternatives. The three sponsoring companies are all active in the production of sustainable, plant-based protein ingredients, each focusing on differing parts of the value chain and each bringing their unique expertise to the challenge. The Scale It Up! Innovation Challenge will provide resources, mentorship, and expertise to the challenge winners.
The Scale It Up! Innovation Challenge is taking idea submissions until October 1, 2022. On October 12, the top 15 projects will be selected by a panel of experts from the three partner companies. These companies will have a week to prepare their pitches, and on October 19, the top five will be selected to advance. From December 1 to January 25, the top five will visit the facilities of the partner companies. In February 2023, the final pitches will be made, and a winner and runner-up chosen. The two selected companies will receive support to help develop and scale their product for market introduction.

Aparna Venkatesh, Ph.D., regional innovation lead of Bühler, shared, "The rising protein gap is a challenge too big to solve alone. The Scale It Up! Innovation Challenge is designed to accelerate start-ups that are also working to close that gap. It allows regional start-ups to access our expertise, ecosystem, capabilities and facilities to develop delicious plant-based meat products. The value we see here is lowering the entry barrier and innovating with them to help on their journey to commercialization and bringing their product to market more quickly. We're excited to kick off the Asia Pacific version of this unique challenge with our like-minded partners and look forward to seeing what it will bring."
Kok Wei Beh, regional technical leader, Cargill, stated, "Innovations in food technology are changing how we think about food and how it is produced. Through Scale It Up!, we're challenging start-ups to come up with new, disruptive ideas in the plant-based protein space, to adopt a longer and broader view toward providing diverse proteins to the world. With our deep knowledge of plant protein ingredients, our expertise in R&D, product development and production, and in partnership with other players in the industry, we hope to help innovators test their ideas and scale it to the market."
Michele van der Walt, regional head of innovation, Givaudan Taste & Wellbeing APAC, said, "The Scale It Up! Innovation Challenge provides a unique co-creation opportunity to develop and scale plant-based food experiences. We aim to accelerate and support the journey for start-ups—providing them access to the expertise, networks and technology required to create authentic plant-based products that consumers will love. At our Protein Innovation Centre, start-ups will be able to benefit from an end-to-end approach, as we guide them through every step of their product development and research journey. We invite all start-ups in the region to join us in making plant-based foods more delicious and accessible to all!"
Want to know everything going on in flavor & fragrance? Sign up for P&F+'s newsletter. You can also follow along on Instagram and LinkedIn.