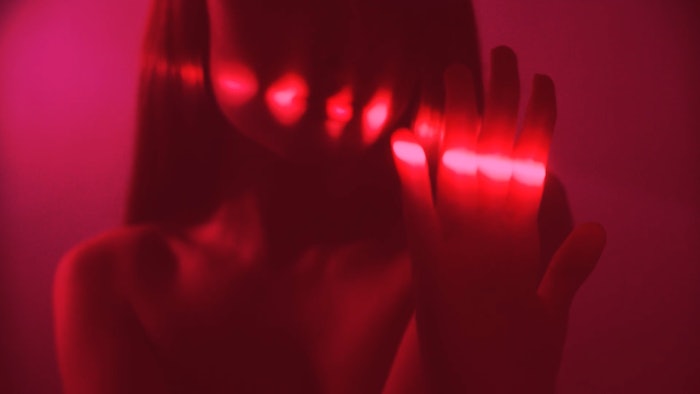 C/O FIRMENICH
Earlier this week, Firmenich announced Dragon Fruit as the 2023 Flavor of the Year which was inspired by Pantone's 2023 Color of the Year, 18-1750 Viva Magenta. Continuing on with the Pantone collaboration, Firmenich has announced the creation of, Live Bold Eau de Parfum. The fragrance, Live Bold Eau de Parfum, is said to "capture the exuberance, optimism and rebellious spirit of Viva Magenta." 
Related: Firmenich Names Dragon Fruit as 2023 Flavor of the Year
Ilaria Resta, president of Global Perfumery, shares, "Earlier this year, we partnered with renowned trend agency LSN Future Laboratory to identify prevailing trends and explore sensory partnerships that will elevate olfactive innovation. Our report showed that strength and optimism, characteristics expressed by Viva Magenta, were core values that we should embrace in the future. And by creating Live Bold, we have found the perfect olfactive representation to bring those values to life." 
Perfumer's Notes
Firmenich senior perfumer Gabriela Chelariu, said, "Together, color and fragrance contribute to creating a multi-sensorial and unforgettable experience for consumers. Both have the power to leave an imprint on us physically and emotionally. When the two are actively fused together in a creation, it can lead to the discovery of new sensations! And, as a perfumer, my driving purpose is to bring that dynamic, multi-sensorial journey into people's lives." 
Key fragrance accords of beet and magenta vetiver were combined with Dragon Fruit Smell-the-Taste to develop this scent. Using beet as an earthy element to drive a sense of naturality and intrigue, Chelariu combined this with Dragon Fruit Smell-the-Taste for layers of watery freshness. She then integrated a rich base of magenta vetiver to ground the fragrance in vibrant sensuality and depth. This same olfactive theme was utilized to create an accompanying Live Bold candle fragrance. 
Both the fragrance and candle are powered by EmotiWaves Energy, a collection of 100% percent natural essential oils, validated to evoke specific emotions. Additionally, the candle is also powered with EmotiBoost Energy, an accord designed to boost the fragrance to generate the expected emotional response. 
One Step Beyond
An immersive, multi-sensory experience of Firmenich Live Bold is available in the metaverse via http://framevr.io/coloroftheyear