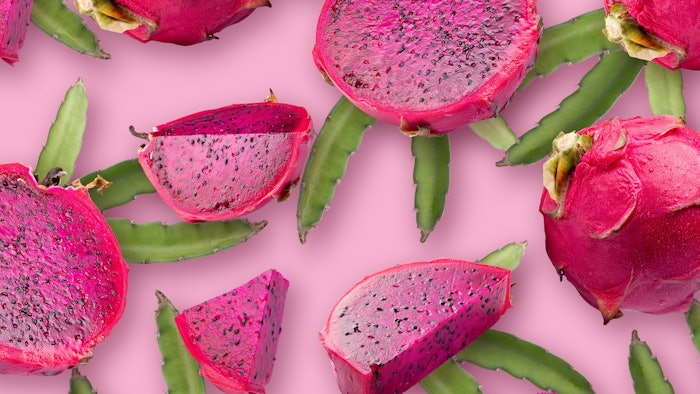 DREAMSTIME
Firmenich has dubbed dragon fruit the 2023 Flavor of the Year, echoing trend insights of consumers' desire for exciting new ingredients and bold, adventurous flavor creation.
Related: Flavors and Fragrances Market Report Projects Continued Growth Through 2027
Firmenich's Trenz forecasting team targeted a post-COVID rise in dragon fruit across almost every major city in the world. According to Mikel Cirkus (global creative director for Taste & Beyond), "this is all part of a decade-long trend for boldness and discovery in food and drink. The pandemic increased the pace of this trend, with huge spikes in consumers broadening their palates for new seasoning." Trenz mapped a 38% increase since 2017 in on-pack claims such as "bold" and "exotic," and the use of three- and four-way flavor combinations in products rising above 25% of all Food & Beverage launches.
Maurizio Clementi, ad interim president, Firmenich's Taste & Beyond division, shared, "This marks our 11th Flavor of the Year, which is something our customers have come to look forward to each year. Dragon fruit's bold vibrancy is a perfect choice as we embark an exciting year of change. Our in-depth Human Insights have identified the strong shift towards well-being and sustainability in people's food and beverage choices, as well as newly-emerging elevated expectations in terms of taste. As everything we do is rooted in nature and deep consumer understanding, this inspired us to choose a Flavor of the Year which captures both."
This is the second consecutive year of a sensory partnership between Firmenich and Pantone. The selected 2023 Color of the Year is Pantone 18-1750 Viva Magenta, which it describes as a "brave and fearless, a pulsating color whose exuberance promotes optimism and joy." 
Cirkus, added, "In the same way that Pantone's Color of the Year captures the emerging themes seen in the world around us, our choice for Flavor of the Year does so by translating new signals into positive sensory experiences. Our 2023 choice of dragon fruit reflects the global consumer's increasingly adventurous palate and desire for the new or exotic when it comes to ingredients and taste."
Jeff Schmoyer, Firmenich's global head of Human Insights, said, "Dragon fruit's subtle flavor creates a wonderful opportunity to bring the exceptional creativity and expertise of Firmenich's Flavorists to the fore, providing the perfect canvas for them to dare to imagine bold, exciting and delicious new taste combinations."
Want to know everything going on in flavor & fragrance? Sign up for P&F+'s newsletter. You can also follow along on Instagram and LinkedIn.