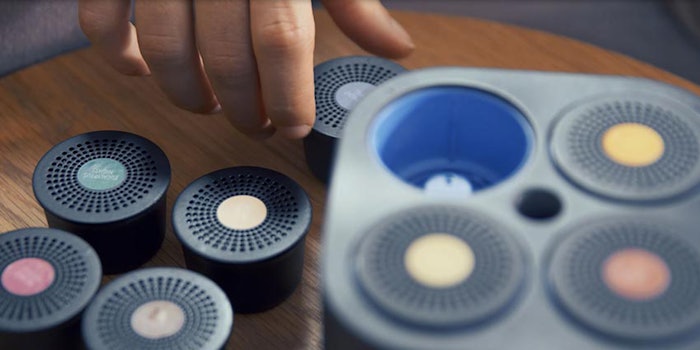 The smart home fragrance world has arrived, and it is here to stay. Moodo is the latest product to leave control over home air care at consumers' fingertips, following a string of products that have taken smart air care into the 21st century.
Controlled by a smartphone app, Moodo utilizes the "single serve" concept of many coffee makers, with the basic starter pack containing four fragrance capsules that last for two months with daily use. Users can mix and match to create custom, signature scents for their homes, with the option to adjust the four scent levels or leave it to Moodo presets on the app.
Moodo currently offers six scent families:
Cozzzy: Comforting scents to evoke spicy home-cooked meals and fresh baked goods. Notes include orange, spices and vanilla.
Gardens of Kanazawa: Floral harmonies containing creamy sandalwood, vanilla, rose and neroli.
Oriental Delights: A floriental combination of rose, jasmine sambac and sandalwood.
Beach Party: Inspired by the sea using notes of amber and salt.
Ashram Spa: Spice, incense and eucalyptus inspire this palette.
Fresh Vibrations: Lavender with floral and citrus combinations.
According to its Indiegogo campaign, Moodo is estimated to be available for backers in July 2017.