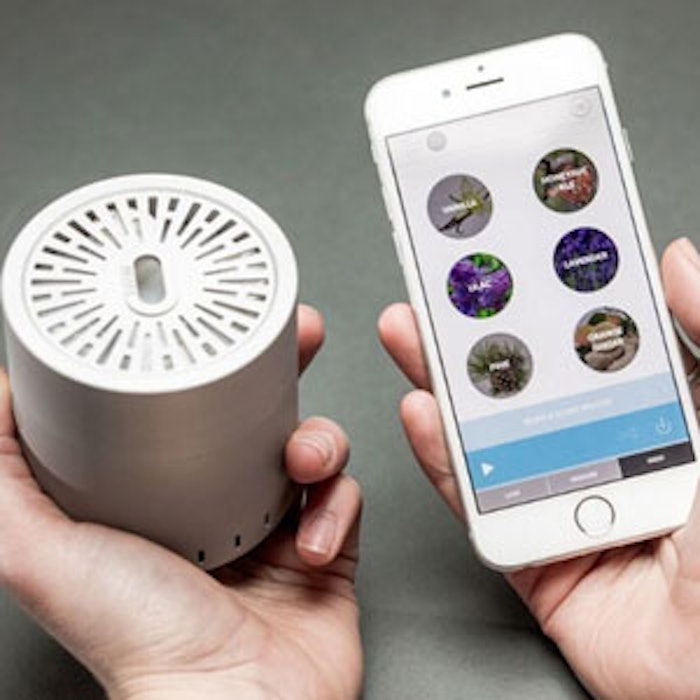 Imagine a digital scent speaker designed to remotely play sequences of scents called mood medleys. Vapor Communications launched Cyrano, a personal consumer electronics device for mood and messaging use.
Powered by the oNote software platfrom, Cyrano offers a digital scent delivery system for a variety of applications. oChip, the scent cartridge embedded into oNote, contains downloadable scents for users to share with one another through an app.
DIY

Scents
This new scent technology can be utilized anywhere including a car, a desk, a bed stand and more. Consumers have the ability to program a "medley," which lasts up to a few minutes, to modify personal air as desired. Selections of mood medleys include, "Get Energy," "Get Relaxed" or "Get Free" from the corresponding oNotes app. Users can also create their own personal mood medley and share them with friends through social networks.
The medleys can be coupled with music, video and other forms of entertainment including a scent film, where scents correspond with the scenes. There is also an option of taking a scent test within the app to identify scents and distinguish between them.
"Cyrano introduces to the commercial market a revolutionary new way to link one of the most important human senses to our digital world," said David Edwards, Vapor Communications co-founder, inventor and Harvard professor. "Our moods are influenced by light as with sunshine and by sound as with music, but even more profoundly by scent, as with the fragrance of an orchid or the aroma of hot chocolate. The olfactory nerve is the only sensory nerve with direct access to the brain. With Cyrano, we can design our lives with all three dimensions of sensorial control."
IFF's Role
The company's partner, International Flavors & Fragrances Inc. (IFF), designed a palette of 12 scents for a replaceable cartridge inside Cyrano. The device's first cartridge, Natural Moods, is based on extensive consumer test data and a broad understanding of the effect of scent on the human brain.
"We are excited to collaborate with Vapor Communications to explore the frontier of digital scent," said Nicolas Mizrayantz, IFF group president, Fragrances. "With our deep understanding of sensorial experience and expertise in fragrance, Cyrano will allow consumers to turn their cars and other small spaces into a kind of personal sanctuary."