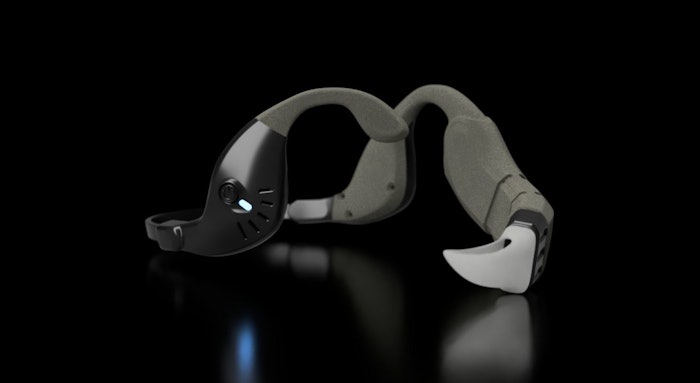 C/O OVR
In the January issue, guest columnist Olivia Jezler (founder of Future of Smell) reported on "The Future of AI x Fragrance Showcased at World Perfumery Congress 2022." Since then, headlines have been buzzing with advancements in artificial intelligence's (AI) reach through various aspects of flavor and fragrance formulation. These inventive platforms, technologies and partnerships have been designed to enhance the creative and product development processes for companies as well as tap into e-commerce channels.
Late last year when Perfumer & Flavorist+ connected with Carmen Silva, a consultant at Euromonitor International, we asked Silva to identify some of the consumer demands that are driving innovation in fragrance marketing/purchasing. Their response?
"Sustainability, neuroscience and personalization are some of the consumer drivings for innovation. [..] Personalization spans mass customization to diagnostics in the fragrance selection process, which overlaps with digital tools of olfactory maps and artificial intelligence." 
The following highlights touch on the latest advancements in AI, and companies specializing in AI applications.
AI-Forward Companies
1. Osmo
Osmo is a new startup based in Cambridge, Massachusetts, with the mission of giving computers a sense of smell to improve the health and well-being of human life, with a $60 million Series A funding round led by Lux Capital and Google Ventures. 
Osmo combines machine learning, data science, psychophysics, olfactory neuroscience, electrical engineering and chemistry in a multi-disciplinary approach. It was created with the goal of creating the next generation of aroma molecules for everyday products such as perfumes, shampoos, lotions and candles. 
"The digitization of the human senses of vision and hearing have led to incredibly impactful leaps in technology that enrich our lives, from better healthcare to photography to digital music," said founder and neuroscientist Alex Wiltschko, Ph.D. "We're excited to play a part in unlocking the potential for olfaction to change the world in fields like flavor [and] fragrance, medical diagnostics, agriculture, and beyond."
2. OVR ION3
The ION3 patented microtechnology (pictured above) is said to create extremely precise, "nano bursts" of scent without the use of heating elements or fans. The reusable scent cartridge has eight base scents that can be used to create multiple combinations and variations. Scents are both released and "cleared" with near zero latency allowing for rapid cycling of experience without odor buildup.
A patented software plugin is said to understand user behavior in the virtual world and send real-time wireless signals to hardware components for activation. It works with all digital content developed in Unity or Unreal. The interface mimics audio components so virtually zero up-skill is needed.
3. Moodify
Moodify develops solutions for the digitization of scent design and communication. The company's vision is to transform scent to become as easy to control and distribute as video and audio so that scent products will be available for consumers everywhere and at affordable prices. Moodify has developed an algorithmic language to mathematically express and efficiently reconstruct scent in a consumer device as well as established the protocol and software standard for digital scent communication.
Moodify solutions include malodor control for packaged goods, places and pets, and reformulations for personal care and home care.
AI-Powered Platforms
The subscription-based platform gives users access to a network that collects new products from 86 markets around the world. The data points are structured within the database to track product innovation. The Flavour Landscape Engine (FLE) utilizes three algorithms said to pinpoint flavor trends relevant to each user's market.
The artificial intelligence platform is designed to be used as a tool to identify flavor trends, understand the prevalence and momentum of existing flavor trends and compare markets and categories.
Partnerships
The partnership includes Airzai being given specific access by Firmenich to its informed creation program based on neuroscientific research to co-create emotional scents to reinvent fragrance design through augmented creation.
Firmenich will be leveraging its AI-powered fragrance creations as part of the agreement, while Airzai will continue driving hardware, software and firmware development through advanced tech and machine learning.
Muneeb Mushtaq, CEO and co-founder of Airzai, said, "This partnership is more than just creating fragrances. It will help redefine the age-old industry. Our collaboration and conversations with Firmenich have always been very exciting."
Matteo Magnani, Perfumery CIO of Firmenich, added, "Pushing the boundaries of creation in perfumery is at the heart of our mission at Firmenich. Airzai is a perfect partner in this mission, a very innovative startup from Canada that has invested incredibly into the future of home fragrance through R&D. We are very excited to partner with Airzai and bring our latest advances in augmented creation thanks to artificial intelligence."
IFF announced its partnership with Salus Optima, a British-based, digitally-enabled personalized nutrition, health and wellness company, to create an AI-driven personalized nutrition platform.
The platform is designed to help consumers understand their unique metabolic response to food, supplements, activity and sleep, accessible via mobile phones and wearables. By leveraging Salus Optima's core technology with IFF's portfolio of health-enabling ingredients from its Nourish and Health & Biosciences business divisions, brand owners can offer consumers a differentiated and engaging personalized nutrition experience that addresses the aspects that influence metabolic health.
Sébastien Guery, vice president, IFF Health, shared, "We see digital services as an enhancement to – not a replacement for – the overall personalized nutrition market. Products will always remain a critical part of health and wellness, but we also recognize the challenge our customers have in meeting the needs of their consumers when it comes to personalization. IFF's partnership with Salus Optima will enable our customers to empower consumers to make sustainable lifestyle choices to achieve their personal health and wellness goals with the blend of a physical product and a digital platform."
Fragrance Tech
The AI-generated, cross-category set of "design rules" for creating fragrances is said to enhance consumers' mental performance in cognitive tasks. Using Firmenich's ScentMove tool, which according to the company "provides a template for verbalization of emotions and enables the evaluation of feelings elicited by odors and fragrances," consumer insights professionals were able to connect the dots between specific emotions and focus.
Myrissi is an AI technology that is said to translate scents into color patterns. The technology is said to capture and predict the spontaneous emotional perception of fragrance experienced by consumers, determining the best alignment between colors, emotions and scents.
Per Givaudan, the Myrissi algorithm is designed to deepen the understanding of consumers' emotional mechanisms. This technology is the result of a decade of academic research in brain imagery and AI, to decode the spontaneous olfactory connection with color, modeled on the basis of a database of more than 25,000 consumer tests.
Maurizio Volpi, president of Fragrance & Beauty, says, "Myrissi represents a step change for the [i]ndustry. As e-commerce remains the privileged channel for customers, we must answer their need of an olfactive digital experience, something impossible to address until now.