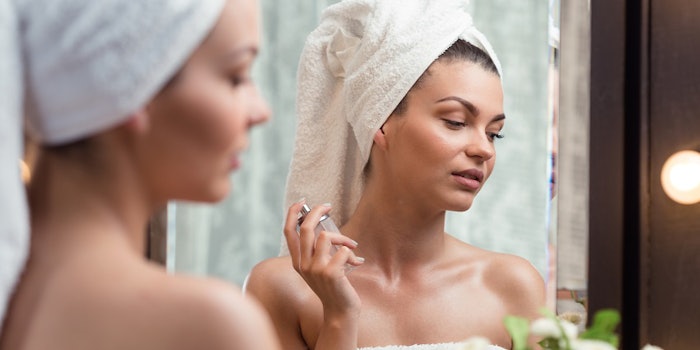 At the 2018 in-cosmetics LATAM, Givaudan Active Beauty introduced "Fragrance on the Move," a collection of four products that merge functional cosmetics with fine fragrances.
Skin Care Meets Fine Fragrances
In response to consumer demand for more functional benefits on cosmetic products, Givaudan Active Beauty has developed four products that address skin concerns targeting specific regions of the body while providing the user with a unique olfactory experience. The collection of products includes:
Attraction: A neck and décolleté lotion. This lotion features Givaudan's Megassane skin tone highlighter and its Neurophroline stress controller. In addition to protecting the neck and décolleté region, the product features musky, spicy and woody notes.
Perfection: A dry body oil SPF 20. Featuring Givaudan's Nyamplung oil, Questice Liquid and Uniprotect PT-3, this product provides skin protection against UV and repairs skin from external stressors. The product also features fruity top notes and marine notes.
Affirmation: A hair elixir. Providing softness, hydration and volume to hair, this product includes Givaudan's 7-in-1 hair beauty enhance ResistHyal, its Kendi oil and its Glossyliance hair shine ingredient. The product also leaves the hair smelling of floral, fruity and woody notes.
 Sensation: A light legs mist. Featuring Givaudan's advanced cooling technology, Evercool, this product provides the wearer with a blend of aromatic, green and fruity fragrance notes.
"We're delighted to reveal this range of new perfumed gestures with skincare benefits. These sophisticated textures are the accomplishment of a passionate collaboration between Givaudan's fragrances and cosmetic formulation teams with the purpose to offer a memorable sensory experience," said Caroline Reverte, formulation project manager.
Consumers Want More
To test the market response to these products, Givaudan conducted a test of over 1,600 consumers in seven countries. The company reported that consumers were particularly interested in the fragrance of the product and its overall concept. The study also reported:
Of the consumers in the study, 67% liked the concept, and in particular, 90% of Brazilian consumers liked it.
Brazilian consumers demonstrated a passion for the perfume in each product. Of the people surveyed, 75% of them wanted a higher dosage of the fragrance in their cosmetic products.
Of the consumers surveyed, 66% of them thought this was an innovation that brands should bring to the market.