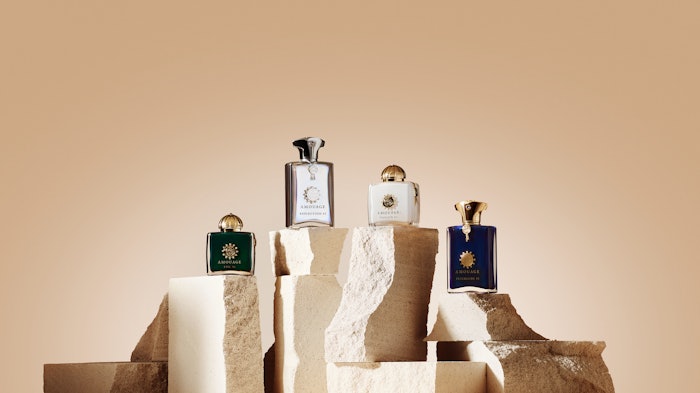 C/O AMOUAGE
Amouage, an international luxury fragrance house founded in 1983, has announced plans to rapidly expand its U.S. retail business. Currently found at Bergdorf Goodman, Neiman Marcus, Nordstrom and Bloomingdales, the company boasts more than 50 scents available in 80-plus countries.
Most recently, Amouage released a collection of six Attars inspired by the Sultanate of Oman, its traditions and its noble reputation with fine fragrance. Amouage's Attars have previously only been available in Oman, but are now being launched worldwide.  
In this exclusive interview, CEO Marco Parsiegla discusses market trends, recent formulation developments, creative processes, tracking generational trends and the future of Amouage.
The fragrance market performed exceptionally well throughout the pandemic, especially in 2021–can you speak to the state of the market and what's driving sales?
Marco Parsiegla [MP]: Over the past several months, people and businesses all over the world have had to face what has proved to be one of the most challenging times. The macroeconomy was impacted by unforeseen challenges brought on by COVID-19, that resulted in disruptions from component availability to the supply chain. For luxury perfume, we have seen continued demand and consumers were seeking something uplifting and indulging during these tough times. For example, we have seen a rise in the sales of our discovery sets as consumers were intrigued to learn more about perfumery. The gift-giving became more vital in a time when people couldn't be physically together.
Yet it has shifted in two fundamental ways. E-commerce has grown at an exponential rate. As such, we have to be masters of every channel, capturing that quintessential luxury experience you get when visiting a store, online. Then there is the shift in consumer preferences: we have seen a quest to amplify personality and making unique choices, rather than belonging to a group. We saw this an overall trend. This has resulted in the search for higher quality creations, authentic products and higher concentrations. Consumers took time to learn about the creation process and chose to go for higher quality and high-end creations.
For Amouage, the past couple of years have been about navigating the new normal and adapting to a hugely altered market. We never stopped: we have continued to launch new products while catering to the ever-increasing demands for online service, making sure that people could still experience that luxury, albeit in different ways.
Consumers appear to be trading up in fragrance brands and opting for more potent/longer-lasting formulations–how does that benefit Amouage?
MP: There has certainly been a marked increase in the popularity of the higher oil concentration segment. This is in line with the consumer trend that is preferencing value over price. Higher oil concentration fragrances provide greater quality and longevity and are therefore more valuable, and this is something Amouage has always prided itself on.
Our fragrances have a much higher oil concentration than the industry average. For example, our core collections vary between 18% and 27%, on the higher end of the concentration spectrum. Our eau de parfums may elsewhere be considered as extrait, while our actual extrait is concentrated at a generous 43% to 56%. At the extreme is Epic 56, which is formulated with a 56% oil concentration. We also use only the finest and rarest ingredients from around the world, and avoid the use of synthetic ingredients that have become the norm in most other manufacturers.
Amouage has ventured even further, and explored reintroducing the world to the oldest form of perfume known to mankind, the 100% pure fragrant oils, also known as attars. We are known to push the boundaries of perfumery, and extend our Attars beyond Oman and share them with the world. Our ambition was to stay true to the attars' noble and precious reputation, taking advantage of their history while infusing them with Amouage's own innovative creative approach. All these help contribute to us building our reputation as one of the top ultra-niche brands in the world. Ultimately, our clients know that when they buy an Amouage fragrance or product they are getting something extremely precious, rare and valuable.
The Attars collection launched in January–how have consumers reacted to the scents? Can you talk a bit about the creative process behind the scents?
MP: For the last couple of years, we have been on a journey to find all-new innovative routes to perfume creation. While we have launched some new fragrances, we have also worked on finding creative ways to reinvent what we have. Our Attars are the latest in this quest. They are extremely unique in the fragrance world, deeply connected to our roots in Oman, and an expression of sheer luxury.
Attars have always been a staple of the house, but they were previously only available in Oman. We felt it was time to bring them out into the world, to update their thousand-year-old heritage, to create a new interpretation of these traditional items, and share them with a global audience, while infusing them with Amouage's own innovative creative approach.
The early feedback from consumers is extremely positive. The collection of Attars has lighter to heavier versions, ones that are easier to wear, to those that appeal to consumers with a more acquired taste. The unique ritual of the Attars is an interesting conversation point and we hear many positive feedbacks about the layering potential.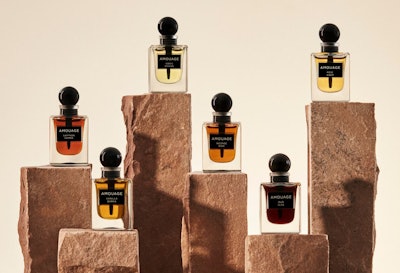 Can you speak a bit about how you've developed your retail distribution around the globe, as well as the marketing strategies that have been the most beneficial for the brand? 
MP: We decided to serve the growing demand for our creations implementing a unique model by establishing Dubai as a global sales hub. From here we branched out to the East, where we have seen a strong evolution of consumer demand for niche fragrances.
We have launched in China with products available through TMall, China's largest e-commerce platform, and we have plans to expand to physical retail locations with new store design concept, across key destinations. Plus, China brings with it the continent of Asia, which presents even further opportunities for growth.
We also branched out to the west, to the biggest fragrance market, the United States. We established our own entity in 2021, Amouage Americas, to build directly the ultra-niche segment. We have close to 20 employees by now and we have the aim to make the United States our second biggest market.
We created our e-commerce fulfillment platform and have established a strong brick-and-mortar presence in top ultra-niche perfume retailers across America. To date we are present in 11 states in 24 top locations including: Neiman Marcus, Nordstrom, Bloomingdales, Bergdorf Goodman and Saks Fifth Avenue with more outlets opening, including in Canada.
Meanwhile, we have been transforming our online presence in parallel. We are equally looking to accelerate the Amouage retail experience, both online and offline with new generation of experiential shopping, and new brand identity.
Since our expansion in the United States, we have had an overwhelming consumer response, we have tripled our sales since 2019 and have had a four-fold increase in sales from online outlets. 
Amouage is expanding in the United States–how would you describe this market? What are consumers responding to most from Amouage?
MP: Amouage has been available in the United States for many years. The United States is the biggest fragrance market in the world and it's also the strongest digital market. There is abundant demand for niche-luxury brands and a huge appetite for authenticity and profound respect for quality and the craft. Consumers want to see the bigger picture; they search for brands that are meaningful to them. They are looking for brands that not only provide value but that resonate with their principles, brands that are authentic, that have a story.
What's more, because they are so well informed, they are just as interested in the ingredients, the production quality, and the company's reputation, as they are in the end product. Amouage represents the high end of perfumery, and we are open and transparent about our manufacturing standards. We have a vertically integrated production in Muscat: we macerate, we maturate, ensuring superior product and experience and we see the consumers' interest in the story behind our quality.
Since our expansion in the United States, we have had an overwhelming consumer response, we have tripled our sales since 2019 and have had a four-fold increase in sales from online outlets. Based on our most recent results, we expect the United States to be a third of the business in the future
Are you seeing any generational trends among your consumers? (ex: engagement of Gen Z vs Gen X, etc.) 
MP: The lifestyle habits of younger people differ from earlier generations. For example, they are more digitally savvy, more financially empowered, and keener to pursue the things that express their individualism and this has an impact on their relationship with luxury retail, too. In terms of fragrance habits, they are coming with a fresh perspective, a keenness to try new things, and a savviness for global trends.
They see fragrance as another expression of who they are, rather than what they have, and this just adds another facet to our relationship with them. The ultra-niche segment is performing very well amongst younger consumers because they focus on a very personal and individual choices. Their focus is not on luxury retail in general but on the product, and quality.
To meet the new consumers at their level, we have to engage with them on social media, and although this presents some challenges, given that smells don't travel through the internet.
When you look at our Instagram followership, our community has grown significantly over the past years, we are currently followed by 215,000 perfume fans and we are building our reach with constant communication.
The past few years have been full of opportunities and were highly rewarding. We are on a quest to find different and unique ways to connect and to find a new generation of consumers eager to share in our passion for fine fragrance.
Looking ahead, do you expect the strength in high-end fragrances to continue? What market or consumer trends will most shape the market in the next few years?
MP: Current market reports indicate the luxury perfume market will grow ahead of mass and luxury perfumes, there is still a lot of demand in the global market to be met, especially amongst the new generation.
The trends that have been shaped in the last few years, especially during the pandemic, are likely to persist for a long time to come; it is usually the case in the aftermath of crises. In addition to an emphasis on online sales, we are anticipating rising trends in fragrances with strong creativity and artistry aspect.
There is an increased need for high quality, substance, and depth in what people are buying, products that appeal to their values and priorities. Amouage has an end-to-end integrated production, not an outsourced chain of activities, we are able to oversee, control and ensure the entire process to ensure high quality.
Sustainability is an important priority, something that is a key focus for Amouage. Lastly, innovation is high on the agenda, not just in the creative and manufacturing process, but in the way we connect with consumers. We continue to push the boundaries and to redefine our ancient fragrance heritage in groundbreaking new ways.
What does the future look like for Amouage? Any projects or launches in the works?
MP: We have ambitions to continue to create high-quality perfumes, to build a stronger bond and communication with our consumers. This is why we continue to bring innovations for our product range, and the overall 360 consumer experience In the short term, we will continue to strengthen our online presence, deepen the bond with our clients and reach out to new ones.
We will accelerate the Amouage retail experience, both online and offline, with the rollout of a new generation of experiential shopping, with a new brand identity, deployed to each boutique, uniquely relevant to the location where it opens. Plus, we will continue rolling out our U.S. brick-and-mortar store expansion and also in China. We are on the brink of opening a new e-com fulfillment platform in the United States.
In the longer term, we have plans to accelerate key markets in the Asia Pacific, Middle East, Africa, and Europe. We aim to become a global authority in perfumery, to spread the passion and long-standing history of fragrances from this part of the globe to the world.
We want to double our business in the next four years, and, as the top-performing brand in our industry, for the first half of this year, we're already ahead. It's all part of our wider vision to continue our year-on-year growth trajectory, with an ambition to become the #1 independent ultra-premium beauty house in the world.
Meanwhile, we continue to spread our passion and long-standing history of fragrances, while creating extraordinary experiences that enrich the lives of our clients all over the world.