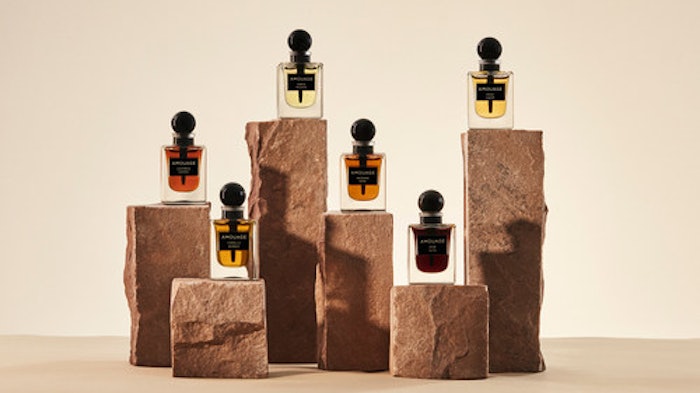 Amouage released a collection of six Attars inspired by the Sultanate of Oman, its traditions and its noble reputation with fine fragrance. Amouage's Attars have previously only been available in Oman, but are now being launched worldwide.
Related: The Bubble Collection Debuts With Six Genderless Fragrances
Scent notes for the six Attars are inspired by villages in Oman and include Orris Wakan, Rose Aqor, Vanilla Barka, Incense Rori, Saffron Hamra and Oud Ulya.
The fragrances were created by perfumers Cécile Zarokian, Dominique Ropion and Julien Rasquinet under the creative direction of Renaud Salmon.
Attars are intended to be combined and applied directly on pulse points—the wrists, below the ear, inside the elbow or behind the knee—as part of a traditional Arabian perfumery practice called layering.
The Amouage Attars are available individually in 12 ml bottles enclosed in a lacquered wooden coffret and in a sampler set including all six Attars in 0.5ml bottles.
The entire collection of 12 ml Attars is also available in the coffret set.
The Attars can be purchased on the official Amouage website and at Amouage boutiques and distributors worldwide.
Salmon said, "We are proud to be able to extend our Attars beyond Oman and share them with the world. Our ambition was to stay true to the Attars' noble and precious reputation, taking advantage of their history while infusing them with Amouage's own innovative creative approach. It is the Attars' strength and their resonance that has allowed us to reinvent them for a changing olfactory landscape without denying their identity."
Salmon continued, "Rare, precious and unique, they are at once modern and ancestral, rooted in a truly Omani tradition and heritage. Derived from natural ingredients and radiating ethereal beauty, they are much more than simple fragrance, they are an intimate, authentic and ritualistic custom; a signature scent of connoisseurs, and a way of self-expression that has transcended civilizations."
Want to know everything going on in flavor & fragrance? Sign up for P&F+'s newsletter. You can also follow along on Instagram and LinkedIn.