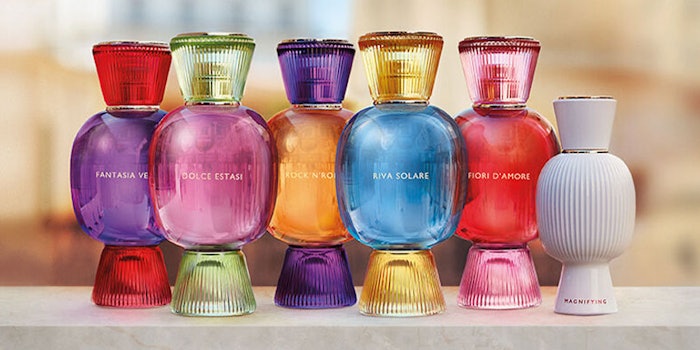 Bvlgari launches new Allegra collection crafted by master perfumer Jacques Cavallier.
Related: Firmenich, Jasmine Concrete & BVLGARI Collaborate on 'Flower Gems of India' Initiative
Each of the five signatures were created to convey intense Italian emotions.
Upon visiting the Bvlgari site, customers will take a two question quiz to discover their personalized scent. The first question is "which emotion inspires you the most?" followed by "what could give you a unique twist?" 
Once you've made your selections, the site will generate your personalized fragrance combination consisting of a eau de parfum matched with a magnifying essence to be layered. For instance if you select "excitement" followed by "sophistication" you'll be presented with Riva Solare Eau de Parfum paired with Magnifying Musk Essence. Each selection is sold separately.
The 100 ml bottles, retail for $230 each and come in five :
Rock'N'Rome: Liquorous floriental notes. Cavallier describes it as "like the emotion of a rendezvous in Rome." 
Riva Solare: Notes of osmanthus and apricot. 
Fiori D'Amore: Made with rose and prelude raspberry of the olfactive pyramid. Described by Cavallier as "It is a red rose—fresh, velvety, fruity."
Fantasia Veneta: Created with patchouli and red peach. Cavallier describes it as "the height of Italian sophistication in a perfume."
Dolce Estasi: Made of musk and heliotrope, described as "the height of Italian sophistication in a perfume."
The Magnifying Essence line comes in five essences: bergamot, vanilla, rose, patchouli and musk. The 40 ml bottles retail for $184 each. 
The Allegra Discovery Set contains all five eau de parfums in 10 ml travel-sized bottles for $173.