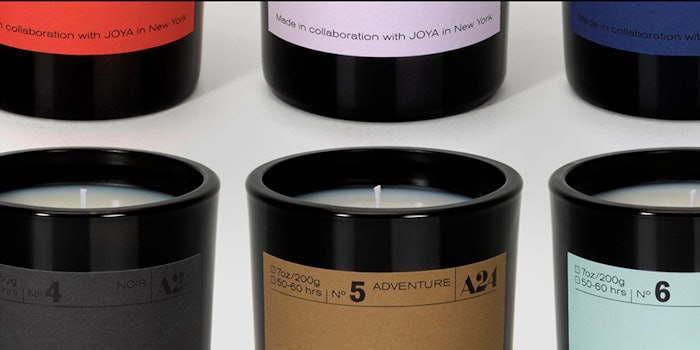 A24, the indie film company, has released a collection of candles inspired by classic film genres. A24 collaborated with Brooklyn-based fragrance studio Joya on the line.
Related: Jonathan Adler Limited Edition Collection by Maison Berger
Each 7 oz candle has a burn time of 50-60 hours, or approximately 33 movies, and retails for $48.
The candles notes and inspiration include:
Horror

Notes: mandarin, clove leaf, cypress, suede, cinnamon bark
Inspiration: fangs, glowing eyes, remote lakeside cabins, foreboding shadows on walls, bloody knives, low-angle staircase shots, dilapidated houses silhouetted on a hill, black cats

Western

Notes: fir needle, eucalyptus, saddle leather, firewood, bourbon vanilla, sweet balsam
Inspiration: boot spurs, campfires, wanted posters, saloon doors, bloody arrows, horses, saddles, guns in (or out of) holsters, whiskey glasses on a bar, men walking into sunsets

Thriller

Notes: blood orange, tobacco absolute, Russia leather and metal, clary sage, juniper
Inspiration: fingerprints, ransom notes, cover-ups, bundles of dynamite, ticking clocks, police sirens, briefcases of money, binoculars, open windows with a draft coming in, the edges of buildings and cliffs

Noir

Notes: wild honey, lemon, concrete, amber, jasmine, vetiver
Inspiration: sheets of rain hitting pavement at night, a name stenciled on a frosted glass door, Lucky Strikes, face-obscuring hats, tape recorders, significant glances, typewriters, the lingering scent of a woman

Adventure

Notes: rosemary, Spanish sage, white grapefruit, white thyme, juniper twig, cedar
Inspiration: desert sand storms, treasure, torch lights reflected on cave walls, hand-drawn maps with burnt edges, cryptic symbols, swinging vines, machetes, precarious rope bridges

Musical

Notes: fig leaf, muskmelon, pink pepper, rainwater, magnolia, lily of the valley
Inspiration: lamp posts, top hats, pianos, snapping fingers, women dancing in concentric circles, tuxedoed men moving in sync, tap shoes, a black cane with a white tip, giggling around a telephone

Sci-Fi

Notes: water lily, wild mint, heliotrope, star anise, witch hazel, ice water, nitro-musk
Inspiration: weightlessness, hyperdrive, mad scientists, an astronaut falling into the infinite void, problems in the mainframe, cryogenic pods, the receding echo of a scream

Rom-Com

Notes: wild strawberry, cardamom, crushed leaves, Peru balsam, sandalwood, dried rose, rosewood
Inspiration: clawfoot tubs, breakfast in bed, love triangles, missed connections, makeover montages, fast talking women, a single red rose, walking through Central Park on a brisk fall day