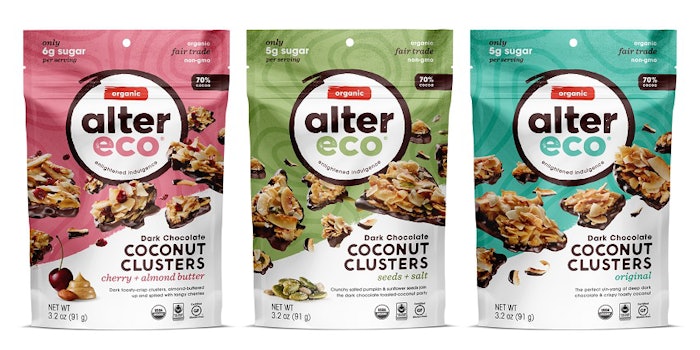 Chocolate food company Alter Eco has entered the snacking category with the launch of its Dark Chocolate Coconut Clusters product, which will be available in three distinct flavors.
Inspired by conscious eaters, the dark chocolate and coconut snack is vegan, paleo-friendly and contains ethically sourced ingredients. Each cluster contains coconut flakes drizzled with dark chocolate and a hint of sea salt.
Currently, the snack product is available in three distinct flavors, which include:
Original. A classic sweet and salty combo.
Seeds + Salt. The classic sweet and salty combo with an extra crunch provided by pumpkin and sunflower seeds.
Cherry + Almond. In addition to chocolate and coconut flavors, this flavor includes almond butter and cherry flavors.
"Our new Dark Chocolate Coconut Clusters mark an exciting milestone for Alter Eco," said Edouard Rollet, co-CEO and co-founder at Alter Eco. "Forty-six percent of Americans snack more than three times a day, and that number is expected to surge in the next five years. We saw an opportunity to fill a void in the snack aisle and pave the way for a next-level enlightened indulgence – one that's filled with sustainable, superior ingredients and mind-blowingly delicious flavor."
Currently, the products are available online and at select retailers.