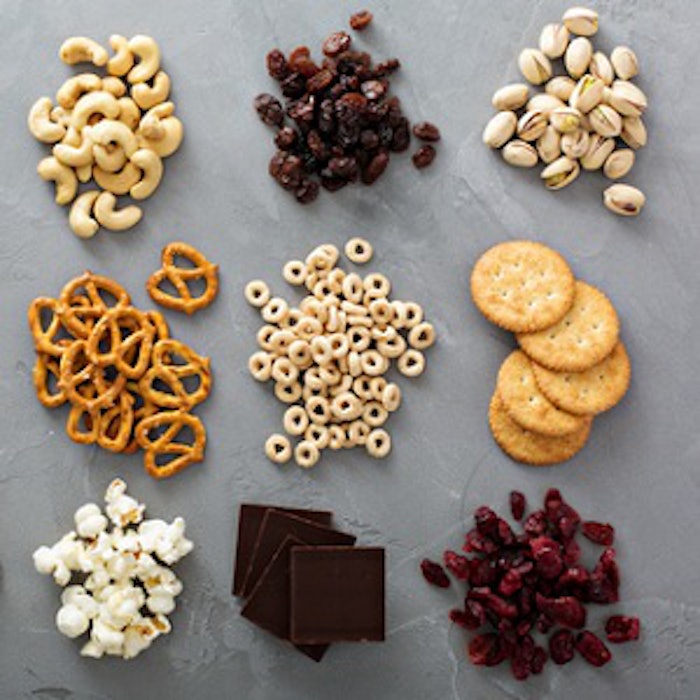 Global consumer spending on snack foods totaled $374 billion between 2013 and 2014, according to a report released by Nielsen, led by Europe ($167 billion) and North America ($124 billion). Meanwhile, the markets of Asia-Pacific, Latin America and the Middle East/ Africa totaled $46 billion, $30 billion and $7 billion, respectively. Latin America posted the greatest increase (9%), followed by the Middle East/Africa (5%).
Global Opportunity
Worldwide, Nielsen found that the most popular snacks included chocolate (64%), fresh fruit (62%), vegetables (52%), cookies/ biscuits (51%), bread/sandwich (50%) and yogurt (50%). However, not all regions snacked the same. According to Nielsen, confectionery dominated Europe (total: $46.5 billion), though dips and spreads grew the most (6.8%). While confectionery dominated the Middle East/Africa (total: $1.9 billion), meat snacks was the fastest-growing segment (25%). Salty snacks lead North America (total: $27.7 billion), with meat snacks growing by 15%. Asia-Pacific was topped by the refrigerated snacks segment ($13.7 billion), with products such as yogurt, cheese snacks and pudding rising 6.4%. In Latin America, baked goods such as cookies and snack cakes topped the region (total: $8.6 billion), though its fastest-growing category was savory snacks (21%).
Boosting Healthfulness
Taste and health concerns drive consumer expectations in the snack space. While sodium and added-sugar concerns continue to grow, consumers do not want to sacrifice taste. Flavors must be more true-to-life than ever—and just as indulgent.