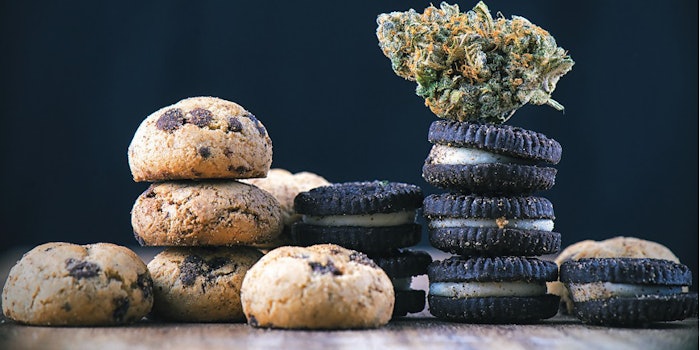 Despite its legal implications, the cannabis industry is a force to be reckoned with. Acceptance from medicinal and recreational users is growing. According to a Gallup polla, 87% and 60% of Americans support medical and recreational cannabis, respectively.
Currently, 29 states allow medical marijuana use and eight allow recreational use, which drive consumption preference. "At the most basic level, you have a consumer who is a recreational user and one that is a medical user," explained David Paleschuck, vice president of marketing for Evergreen herbal, a Washington state-based cannabis product supplier. "Medical users tend to look for ingredient quality that often fall in line with a wellness formulation [and to alleviate pain]. The recreational user is not concerned with wellness as much as potency."
"While the cannabis market continues to expand and reach conscious consumers, one thing is apparent in the growth of cannabis edibles: a need for flavor."
In 2018, the marijuana market is expected to be worth $10.2 billion – a $2.6 billion increase from 2014b, according to ArcView Research. Marijuana-infused foods and beverages were responsible for major growth in the cannabis-friendly states of California, Colorado and Washington. Based on another report by ArcView Research, California's edible market in 2017 reached more than $180 million, 10% of the state's cannabis sales. In Washington state, edibles sales saw a 121% increase, according to cannabis market research firm Headset.
The New Buzz Word in Mainstream
Though the F&F industry is thoroughly familiar with terpenes, these compounds are responsible for the pharmacological effects of cannabis, as well as the odor. As consumer interest in cannabis continues to grow so does the need for more information. The term "terpenes" has entered mainstream cannabis culture, and just searching for "cannabis terpenes" online brings you to a plethora of websites defining its importance in cannabis cultivation.
By understanding how these compounds work together, scientists can predict and manipulate these components to change the smell and flavor. "Certain flavors don't marry very well," explained Sean Arnold, senior vice president of product development at Franklin Bioscience during Flavorcon 2017. "Vanillas [and] softer flavors, [as well as] citrus, bitter and mint flavors do well with keeping terpenes intact. When removing terpenes, there is a limited palette." Arnold continued to explain that cannabis oil can also work as a flavor binder to bring down the intensity of a flavor.
"What's interesting in the future is what chemists and flavorists find in cannabis and bring back into other foods," said Paleschuck. "Ben & Jerry were talking about [cannabis] strain-specific ice cream flavors. What [are the] new flavors derived from cannabis?" Additionally, how can cannabis oil work with flavor intensity?
Microdosing is the Future
Cannabis-infused products are developed with similar criteria as the flavor industry when it comes to sourcing, labeling, testing requirements, safety and public health. Cannabinol (CBD), which is derived from hemp, is seeing huge growth in the medical community since the active ingredient does not elicit any psychoactive effects, compared to products infused with tetrahydrocannabinol (THC). "There is a huge opportunity behind [CBD], and the quality ranges anywhere from 99% isolate down to what looks like crude oil," explained Jon Fernandez, senior vice president of corporate development at Franklin Bioscience.
When it comes to product development, microdosing is the future, explained Arnold. Reducing the dosage to five milligrams and smaller promotes safe and responsible consumption. This includes labeling THC dosage levels on all labels, particularly because people are looking for a dosage that is compatible with their needs. "Edibles have their own uses and 10 milligrams could be a lot for some people, and there are so many factors (diet in particular) that go into ingesting it," said Arnold. "So that's why microdosing is taking off. It's a sub-therapeutic dose where it addresses pain but doesn't get you high."
Packaging is another driver in the industry, said Paleschuck. Not only is cannabis packaging heavily regulated but requirements vary by state. "We have to be careful about what we put in the product," he adds, "Shelf life and stability are based on the packaging. Along with child-proof packaging, we have to consider how a baked good can sustain on the shelf. Often, the baked goods have a higher level of fat because it's fat that picks up the cannabis oil and carries them into the body."
Flavoring for Cannabis
"Flavors play a big role across product lines," Paleschuck said. Younger consumers, between ages of 18-29, are more adventurous with flavors, while still looking for a buzz. "They're the ones purchasing our Orange Cream Pie, our high potency, sweet-flavored soda." Although younger consumers are looking for potency, the edibles market and the wellness movement coincide simply because it's an alternative to smoking. Indicating THC dosage levels in an edibles product empowers the consumer to make a safe and responsible decision, while encouraging the user to know their limits.
Edibles are a fast growing segment, particularly for medicinal users, where wellness and pain relief are among the top priorities for consumers. Most products indicate THC dosage for consumers to ingest products safely and responsibly.
Cannabis-infused beverages are found in a variety of categories including spirits, tea, water, coffee, tonics, sodas, tinctures and juices. "Any edible," explained Paleschuck, "Whether it contains cannabis or not, is something that folks are concerned about flavor. You can extract cannabis oil and infuse it into anything." This includes food products like confectionery, fruit chews and baked goods and beverages; such as carbonated beverages, juices, waters and wellness-derived beverages, teas and coffees.
In 2017, Lagunitas launched its craft IPA beer made entirely from cannabis terpenes, which are molecularly identical to hops. The limited-release beer contains no tetrahydrocannabinol (THC), the psychoactive ingredient in cannabis.
Tinley Beverages' line of spirits contains 80 mg of THC and less than 0.3% of alcohol. Products include dark rum extract, amaretto extract and cinnamon whiskey extract, while the margarita mix contains only 10 mg of THC.
Cannabis confections are also seeing unique flavor profiles. Madame Munchie's macarons offer flavors such as hazelnut mocha and grilled PB&J. Défoncé offers chocolate bars in vanilla, matcha, milk, coffee, mint, dark chocolate, hazelnut and extra dark.
With microdosing growing in popularity, edibles manufacturers are creating products with THC dosages as low as 2 mg. Kiva Confections produces 2.5 mg of THC in its mint products, which include flavors like Moroccan mint and eucalyptus—both sugar-free and infused with matcha. The company also offers as low of a dose as 2 mg THC chocolate bites with flavor combinations like coffee and dark chocolate, blueberries and milk chocolate, and wild strawberries in organic milk chocolate.
It's hard not to compare the regulations (and creativity) between cannabis and flavor. Both are held to strict standards, and the challenge each industry faces requires meeting consumers with transparent, clear and relevant information on the label. There is also a growing area for unique flavor profiles, especially as terpenes play a larger role in flavor development.
It won't be too long before the two industries intersect, Paleschuck added. "As the cannabis industry ramps up its speed, the flavor industry will be supporting it just like any other [food and beverage product]," he said.
While the cannabis market continues to expand and reach conscious consumers, one thing is apparent in the growth of cannabis edibles: a need for flavor.
Footnote:
a www.news.gallup.com/poll/196550/support-legal-marijuana.aspx
b www.marketplace.org/2015/01/07/business/legal-pot-sales-could-top-10-billion-2018