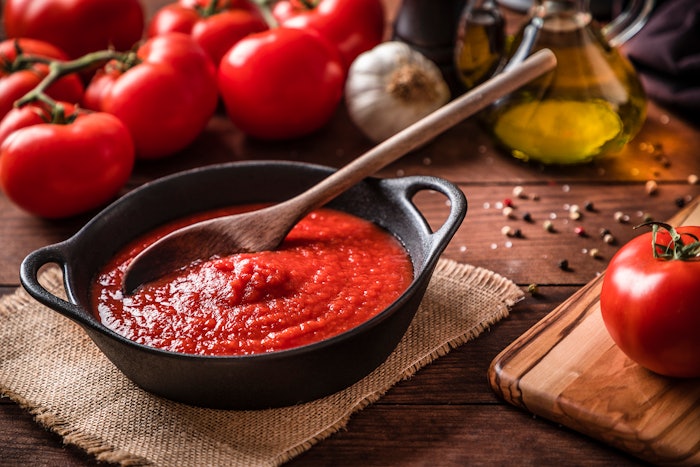 courtesy of T. Hasegawa
T. Hasegawa USA debuted Tomato Boostract* technology designed to address supply chain shortages and decrease reliance on tomato paste, in response to rising material costs and product shortages. 
The natural flavor modifier is said to amplify the taste and texture of tomatoes in a wide variety of products including sauces, ketchup, soups and salsa. The new technology was developed in response to severely limited tomato crop supplies in the U.S. as record summer rains saturated California tomato fields, shortening the planting season and diminishing supply of raw tomatoes. This is on top of already rising material costs for tomatoes, which have gone up as much as 80% since 2021 due to previous U.S. droughts and other growing challenges that impacted supply.
The R&D team at T. Hasegawa determined that use of Tomato Boostract can successfully reduce the use of tomato paste by nearly 25%.
T. Hasegawa's VP of research and development, Jim Yang, shared, "Our mission at T. Hasegawa is to improve the taste of foods and beverages, but also to solve production challenges through innovative technologies. With supply shortages increasing the cost of tomato products, Tomato BOOSTRACT is a perfect solution to amplify the fresh, bold natural flavor and texture while decreasing reliance on tomato paste."
Yang added, "Since BOOSTRACT is a natural flavor modifier, it simply brings out more of the flavor that is already in tomato paste but allows food brands to use significantly less product in their formulations."
*BOOSTRACT is a trademark of T. Haseagawa