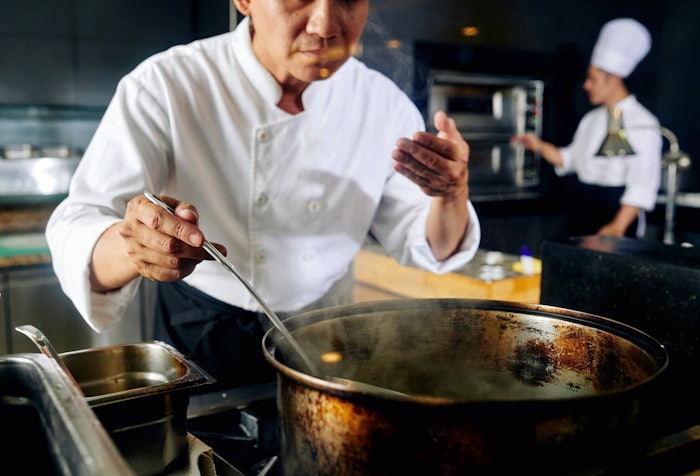 courtesy of T. Hasegawa
T. Hasegawa USA has debuted two innovative technologies aimed at producing authentic-tasting food and beverage products with the launch of HASEAROMA and ChefAroma flavor enhancers in the North American market.
1. HASEAROMA: A proprietary research and enhancement technology that creates authentic sweet and savory flavors that reproduce the 'first bite' sensation of experiencing a food for the first time, packed with intricacy and nuances of flavor. More can be found about HASEAROMA in the June 2023 issue.
"We are pleased to announce this breakthrough technology of HASEAROMA and ChefAroma as our latest product offerings," said T. Hasegawa USA CEO Tom Damiano. "Novel technologies are the foundation of what we do at T. Hasegawa and we remain committed to innovation by continually expanding, improving and customizing new technologies to create more authentically-flavored foods and beverages. In addition to demonstrating cost savings by speeding the preparation process or reducing reliance on expensive ingredients, technologies like HaseAroma and ChefAroma are revolutionary in improving the taste and experience of food and beverage products."
"With the immense growth of vegetarian and vegan diets in North America, savory flavor technology like HASEAROMA will make a positive impact in coming years, allowing us to refine and replicate the authentic flavors of specific cuts and types of meats like chicken, duck and wagyu beef," said Austin Luft, senior flavorist at T. Hasegawa USA.
2. ChefAroma: The new technology designed to deliver chef-inspired flavors in less time, said to provide a rich complex flavor that is true to culinary recipes. Targeted to foodservice applications, ChefAroma is said to use reaction flavor technology and real food ingredients like butter, onion and wine to add complexity and intensity to otherwise mundane foods. The technology was initially developed by T. Hasegawa in Japan and refined by the U.S. subsidiary for introduction in the Western market.
"We're only just beginning to realize the broad possibilities of ChefAroma in foodservice applications," said Luft. "This technology is incredibly valuable to restaurant chefs because it can fast-track the process of creating mother sauces with minimal prep time and a higher level of flavor intensity–optimizing cost, improving quality and inspiring versatility."