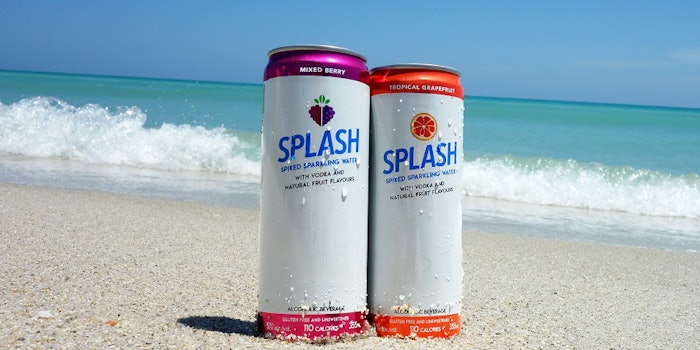 Squeez�d Beverages
Squeez'd Beverages has debuted its line of RTD alcoholic sparkling waters, Splash Spike Sparkling Water, to Canadian markets.
"The flavors we've selected to offer have strong consumer appeal and the slim 355ml can retains the effervescence, chills fast and stays cool," said Scott Pederson, director of marketing. "We are excited to be bringing SPLASH Spiked Sparkling Water to Canadians this summer in response to the growing popularity of these beverages internationally."
Combining vodka with sparkling water, the beverages are currently available in either mixed berry or tropical grapefruit flavors. The mixed berry flavor provides a sweet berry aroma with the flavor of blackberries and a hint of raspberry, where the tropical grapefruit flavor contains a citrus and tropical fruit aroma and has passionfruit, mango, pineapple and grapefruit flavors. Each beverage also contains no added sugar or artificial sweeteners and is gluten free and has a hint of natural flavors.
"We created SPLASH Spiked Sparkling Water to satisfy the increasing demand in the market for an alcoholic beverage that has no added sugar and no artificial sweeteners," said Scott Pederson, Director of Marketing. "It's a refreshing option for people with active lifestyles, who are looking for a clean-tasting and convenient alternative to traditional sugary RTD products."