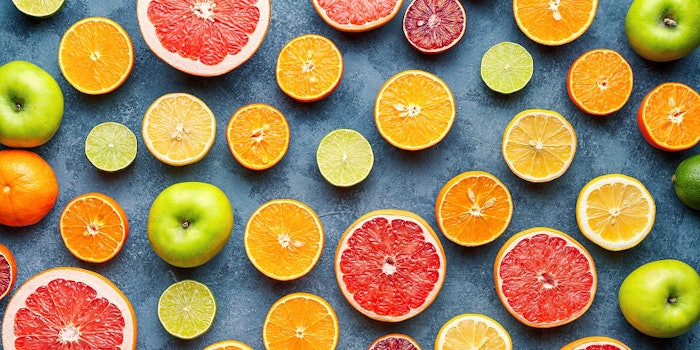 Symrise has announced the immediate availability of a series of citrus essence oil replacers, including certified organics.
Finding an Alternative 
"We are focused on the impact of changes in consumer demand, notably the switch from regular orange juice made from concentrate to orange juice not-from-concentrate (NFC)," said Michael Falkenberg, Symrise category director of beverages. "There is less processing of juice from concentrates, so fewer by-products such as essential oils are available for the processing of citrus essence oils into citrus flavors."
The series of citrus essence oil replacers are fully sustainable and mimics the taste profile of citrus essence oils. The products are made possible through Symrise's sustainable resources, which include certified sustainable farming practices, organic availability and proprietary separation technologies.
Combating a Volatile Market 
Symrise's citrus essence oil replacers come at a time of increased market volatility for the citrus market. Recent hurricanes, Harvey, Irma and Maria, have made a significant impact on next year's citrus crops. Farmers are expected to lose anywhere from 70-100% of their crops. In addition, droughts, flooding and global warming have made raw material markets more volatile in recent years. 
"Our citrus essence oil replacers can address specific market challenges, such as the citrus greening disease which is having a substantial impact on crops - particularly what's grown in the United States, Brazil and Mexico. Prices are skyrocketing as a result of the damages caused by greening," said Falkenberg. "Turning to European and Asian citrus suppliers is not a satisfying alternative. While European products may be high in quality, they are also high in cost. The low juice quality of China's domestically used citrus crops is also a drawback since it has driven farmers to shifting to competing cash crops such as sugar cane and biofuels."