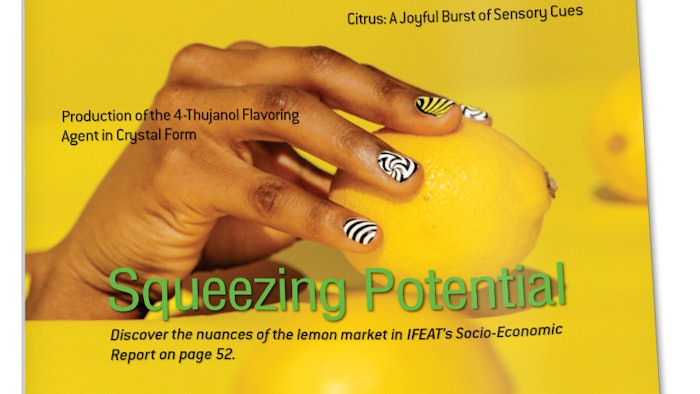 Perfumer & Flavorist+'s (P&F+) December issue is live, and this month, the name of the game is citrus! Read up on all the latest developments in the citrus market, flavor formulation, oil extraction, lemon production and more. Readers can also explore a new "Perfumer Notes" column, "Flavor Bites" feature and the 2023 P&F+ editorial calendar in the pages ahead.
Editor's Note: The Citrus Market Bares Fruit & Concern by managing editor Jenna Rimensnyder

Product Roundup featuring Natural Advantage, Symrise, Mane, Crystals Drop, Berje, Indesso Aroma, MilliporeSigma, Oamic Ingredients and Elemental Container Inc.
Profiles featuring Pierre Bénard, creative perfumer and Simon Merrills, perfumer, Argeville
Flavor Bites: Linalyl Acetate by John Wright
Application of Gas-Liquid Chromatography to the Analysis of Essential Oils Part 1 of 2 by M.J. Milchard
Production Of The 4-Thujanol Flavoring Agent In Crystal Form by Denis Rontein
Perfumer Notes: Nature's Treasures by Neha Okhade, perfumer, Agilex Fragrances
The New Nootkatone: Reducing Dependence on Citrus Oils While Preserving Signature Taste by Dawn Streich and Chad Hansen, Givaudan Taste & Wellbeing
IFEAT Socio-Economic Report On Lemon by Peter Greenhalgh
Citrus: A Joyful Burst of Sensory Cues by Zareena Valappil, technical director, Global Citrus, ADM
2023 Perfumer & Flavorist+ Editorial Calendar Revealed
Organoleptic Characteristics of Flavor Materials by Cyndie Lipka, principal flavorist, Bell Flavors and Fragrances
Want to know everything going on in flavor & fragrance? Sign up for P&F+'s newsletter. You can also follow along on Instagram and LinkedIn.