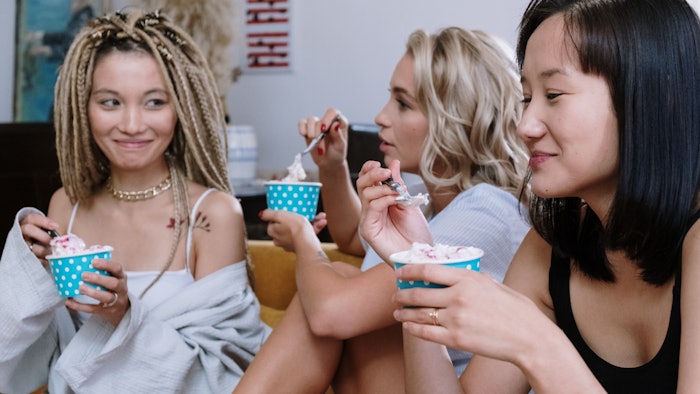 PEXELS
ADM has released a trend report, A Year of Freedom of Expression through Flavors and Colors, detailing the themes that will shape what flavors and colors will capture and hold consumer attention in 2023. Here are the four trends on the rise according to ADM:
Related: ADM Global Food, Beverage and Animal Nutrition Trends Report 2023
Bright & Light Vibe Shift
Globally, 47% of consumers state that a top barrier to healthy living is the difficulty to find time to relax. As such, consumers are gravitating to flavors and colors that help shift their mood toward brighter and lighter moments. Many are anticipating the 2023 Color of the Year to be Digital Lavender. This purple will translate into unique products, such as bubble teas, ice cream and functional beverages, that pull in notes of floral lavender, nutty purple sweet potato and sweet berry, plum or grape. 
In the same vein, warm, neutral shades that correspond with comforting vanilla will have staying power in the new year, helping consumers feel more mellow and relaxed. This move towards simplicity is also supported by the overarching consumer demand for clean labels.
Fierce Flavors & Saturated Shades
Consumers are being drawn to playfulness and excitement, and attention-grabbing saturated shades. Specifically, the vibrancy, optimism and boldness of deep, bright pink is exploding across categories. This intense mood boost corresponds well with unique flavors, such as dragon fruit, pink grapefruit, fruit punch, rosé and pink florals, presenting in over-the-top baked goods, desserts and cocktails, as well as vibrant sauces. Seventy-four percent of global consumers say they like food and drink products with new and unusual or exotic flavors. Popular flavors in North America, such as watermelon, mango and berry, have shown massive growth year-over-year, and are providing inspiration for other regions around the world. In addition to pink, saturated shades of orange, blue, teal and purple will accompany bold flavor profiles, such as blue raspberry and ube.
Exploration of Deep Blue Skies
Escapism is a key theme for the new year, and consumers are seeking foods that may bring them on a flavor journey and boost their mood. Blissful blue encapsulates this trend, signaling new possibilities with wide-open skies and oceans. Pairing well with blue shades are refreshing flavor notes that cue wonder and fun-filled escapades. Market research shows that, among the top five fastest-growing year-over-year food and beverage claims, is "limited edition," demonstrating the consumer demand for experiential and fantastical moments. Dream-like fantasy flavors like mermaid and yeti are already popping up in the marketplace, particularly in the beverage space. Juicy blue raspberry and tart blackberry also remain popular flavors for drinks and will be further brightened by the addition of authentic citrus notes. 
Additionally, for sweet applications, peppermint, cotton candy, birthday cake and tropical cocktail flavors provide uplifting levity. Capitalizing on the desire for adventure, transportive notes of spice and regional cuisines bring a sense of exploration to every day ready meals and savory snack occasions.
Feel Good, Do Good
People want to feel good both physically and emotionally, curating their wellness routines with functional ingredients together with colors and flavors that raise their spirits. Shades of orange, from saturated papaya to vibrant mandarin, reflect this demand. Ripe, fruity citrus, tropical mango and passionfruit and juicy stone fruits, as well as fresh mint, herbs and botanicals are breathing new life and energy into culinary dishes, confections and active nutrition. 
While curating their own personalized wellness regimes, consumers are also looking to make a positive impact on their communities and the planet. Products with colors and flavors that consumers connect with sustainable characteristics are on the rise. Globally, 73% of consumers say they have positive feelings about companies that are transparent about where and how products were made, raised or grown.
Want to know everything going on in flavor & fragrance? Sign up for P&F+'s newsletter. You can also follow along on Instagram and LinkedIn.