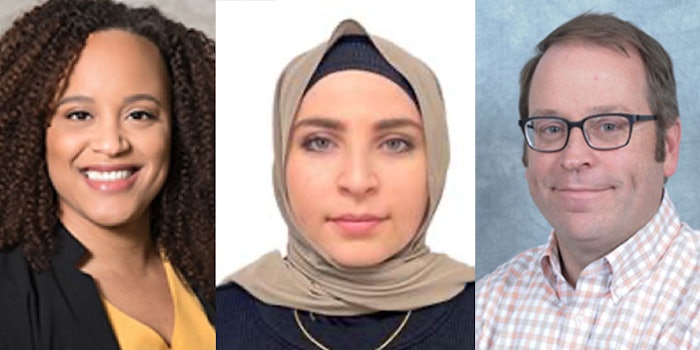 C/O Bell Flavors and Fragrances
Bell Flavors & Fragrances, Inc. (Bell) has announced a series of promotions to senior leadership positions at its headquarters in Northbrook, Illinois. These updates include the promotion of Megan Paul to sensory scientist, Noor Abo Alzahb to the position of sales project manager and David Banks to senior marketing director.
Related: Bell Flavors & Fragrances Announces Partnerships to Drive Sustainability Commitments

In her new role, Paul will lead sensory work for all flavor technology and internal formula management projects. She will also continue leading flavor panels to support key flavor and product development efforts. During her tenure at Bell, Paul has demonstrated a strong drive for results and commitment to the sensory consumer science discipline. Key accomplishments include strategic leadership of sensory panels for FMP label requirements and select formula management projects. Paul also proved instrumental in efforts to increase efficiencies in panel setup and created SOPs for lab processes. She is now a subject matter expert in Compusense and R Software and on track to complete her graduate certificate in sensory and consumer science by end of 2022.
Abo Alzahb has been promoted to the position of sales project manager, based out of Bell's Northbrook headquarter. In this role, Abo Alzahb will be responsible for the management and growth of a segment of customer accounts, as well as processing incoming requests for potential customers by screening website and telephone inquiries. She will continue to improve the Bell Flavors & Fragrances customer experience through process improvements and working directly with the flavor and fragrance sales teams to streamline workflow. Another key responsibility consists of developing relevant reporting. Consequently, her efforts will continue to improve sales activity and win rates. Additionally, she will be engaged in sales team projects including support for large group meetings and improving the customer experience.
Banks has been promoted to the position of senior marketing director in Bell's Northbrook headquarters. His role on the marketing team is pivotal to creating and executing new concepts, business models and channels to drive Bell's position as an innovation leader in the flavors and fragrances industries. In this role, he will plan marketing and branding objectives, analyze market trends and recommend marketing and business development strategies, overseeing advertising, press releases, email and social media campaigns and strategies.
Want to know everything going on in flavor & fragrance? Sign up for P&F+'s newsletter. You can also follow along on Instagram and LinkedIn.