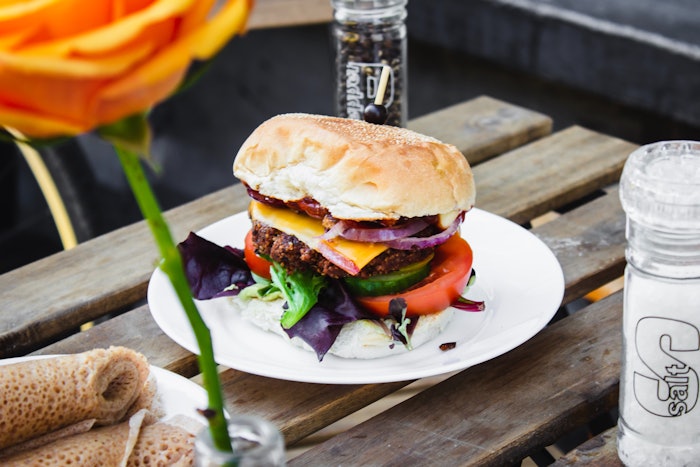 Givaudan has announced the launch of PrimeLock+*, a natural, vegan-friendly integrated solution that mimics animal fat cells, enabling enhanced plant-based product development.
Related: Givaudan Announces New Brand Identity, "Human By Nature"
PrimeLock+ is said to encapsulate, protect and lock in both flavor and fat in plant-based meat substitutes. This integrated technology is designed to allow companies to create great-tasting, lower fat, plant-based products such as burgers, sausages and meatballs while improving the eating experience.
The purported benefits of PrimeLock+ include:
Protecting the flavor and fat during cooking, releasing it gradually during cooking and consumption.
Visual appeal is improved with a marbled, fat-like appearance.
Stability during shelf life is improved, as PrimeLock+ separates flavors from proteins.
Allowing a reduction of up to 75% of the fat and 30% of the calories while improving the eating experience.
Natural and vegan-friendly solution.
Sylvain Jouet, global product manager for meat substitutes of Givaudan, said, "Givaudan is committed to helping its customers create delicious plant-based products that consumers enjoy. To do this, we have built wide-ranging expertise and a growing suite of integrated solutions and technologies in the alternative protein space. In 2019 we asked ourselves how we could improve the eating experience of plant-based burgers; today, after extensive research and development, we are excited to launch PrimeLock+, a unique solution that delivers multiple benefits."
Jouet continued, "Our portfolio of solutions is complemented by our growing network of protein centers around the world, where our experts in plant-based innovation co-create healthier, exciting plant-based products. We are pleased to welcome customers to the Zurich Innovation Center Protein Hub and the Protein Innovation Center in Singapore, as well as sites in other regions, to discover how PrimeLock+ and other innovative solutions and ingredients can help them create winning plant-based formulas."
*PrimeLock+ is a trademark of Givaudan. 
Want to know everything going on in flavor & fragrance? Sign up for P&F+'s newsletter. You can also follow along on Instagram and LinkedIn.