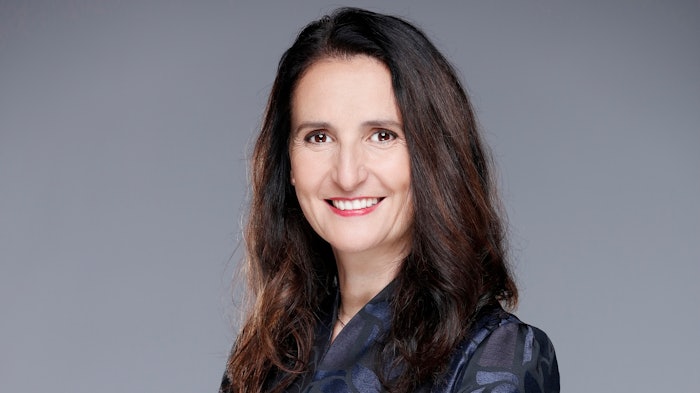 Firmenich has announced that Ilaria Resta, global president of Perfumery, has been chosen to receive a 2022 CEW Achiever Award by the professional organization, Cosmetic Executive Women (CEW).
Related: Firmenich Releases Half-Year Results
CEW, which comprises 10,500 members from 3,500 companies in the beauty industry globally, gives the prestigious award each year to celebrate the most accomplished women in the sector.
Resta is the first and only woman to serve as a global president among the major fragrance houses, having been named to the role in March 2020. Her new vision, "Positive Perfumery," is about turning fragrances into a positive force for consumers' wellbeing and the health of the planet. She made diversity and women's leadership one of her key priorities. Firmenich is the seventh company in the world, the first in the fragrance industry, to be globally certified as a gender-equal employer by EDGE, the world's leading business certification standard for gender equality in the workplace.
Resta has instigated several strategies to ensure women can access leadership roles:
• Recently hired several new talented women in her leadership team, including Robin Mason, vice president Fine Fragrance North America; Patricia Nogueira, vice president Fine Fragrance Latin America; Levenza Toh, vice president, Perfumery, Southeast Asia, Japan and Korea.
• Created a formal mentoring program where she personally supports the young talents in the group.
• Sponsored the Wellbeing Program for employees and personally shared her stories of coping with mental well-being.
Resta previously had more than 22 years of experience with Procter & Gamble. She built brands such as Tide, Ariel, Fairy, Swiffer, Duracell, Pantene, Head & Shoulders, Herbal Essences and Aussie, in global roles as well as leading regional business in Europe and North America. In the past, Resta is also known for renewing P&G's European Hair Care business and, prior to that, restructuring the Duracell business ahead of divestiture. Resta was recognized as 2019 Brand Builder of the Year in the United States by WWD, a fashion trade journal.
The award will be given at the 2022 Live Women's Leadership Awards Luncheon, a ceremony held by CEW in New York City on June 2nd, 2022.
Gilbert Ghostine, CEO, Firmenich, said, "I am beyond thrilled that Ilaria has received such a prestigious award. She accomplishes dynamic results through her clear strategic vision, deep retailer understanding and inspirational organizational leadership. A true pioneer, she is an ardent defender of the coaching and promotion of women in business, a cause that is particularly close to her heart. Ilaria has been a driving force behind the great steps Firmenich has taken to ensure its workplace allows women to nurture and reach their full potential, and she personally makes diversity and belonging a priority."
Resta said, "I am honored to receive this award in recognition of my career achievements and my impact on talent development. I have huge respect for CEW, an organization devoted to removing the barriers to women's progression and ensuring equal opportunity. I am humbled to join so many inspiring, successful women who won this award before me and I want to congratulate the talented women awarded alongside me this year. I am proud to work at Firmenich with an accomplished team of creatives, scientists, business leaders around the world and I am excited about the journey ahead. We are transforming the future of Perfumery, creating a new product portfolio focused on health, well-being and sustainability, built on foundations of creativity, innovation, data and technology. I want to help create a new eco-system, which includes our strategic partners and suppliers, and together produce a bigger impact on equality and inclusivity."
Want to know everything going on in flavor & fragrance? Sign up for P&F+'s newsletter. You can also follow along on Instagram and LinkedIn.