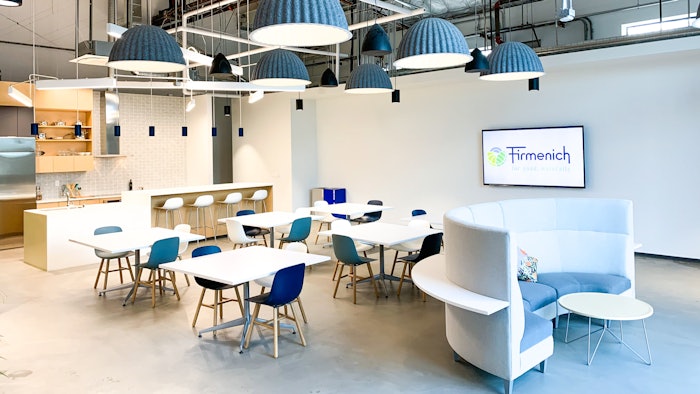 Firmenich has announced its half-year results for the six months ended December 31, 2021.
Related: Firmenich Announces Partnership with Harmay
Financial Highlights
Revenue reached CHF 2,241 million, up +12.3% year-over-year at constant currency. On a reported basis, revenue increased +12.2% year-over-year.
EBITDA of CHF 451 million, up +24.9% year-over-year.
Adjusted EBITDA of CHF 460 million, up +25.3% year-over-year, driven by topline growth across the business and a favorable product mix. Adjusted EBITDA margin, as a percentage of revenue, of 20.5%, up +2.1 percentage points year-over-year.
Free cash flow of CHF 162 million, down -10.7% year-over-year, driven by working capital impact of higher safety inventories to preserve customer service levels and support our customers in a volatile global supply chain environment.
Operating Highlights
Taste & Beyond delivered revenue growth of +13.4% at constant currency, with double-digit growth across all segments and strategic initiatives.
Perfumery & Ingredients revenue increased +11.7%, at constant currency, driven primarily by strong growth in Fine Fragrance and Ingredients.
Growth across all regions, and strong momentum in our key geographies, including Europe (+22.2%), India (+12.9%), China (+10.4%) and North America (+7.0%).
Prioritized customer service levels, ensuring safety of supply in a challenging global raw material and supply chain environment.
Continued to benefit from our ongoing investment in growing segments, key geographies and differentiated offerings, including: Sugar Reduction, Naturals & Renewable Ingredients, Plant-based Foods, Clean & Responsible Fragrances, E-commerce and Digital Channels.
Continued investment in strategic growth markets, opening an end-to-end fragrance and taste co-creation center for customers in South China, and launching the construction of a state-of-the-art production hub in Turkey.
Launched new innovations offering superior performance and active benefits to our fragrances, as well as new renewable ingredients such as Muguissimo and 100% natural ingredients including Muguet Firgood.
Progressed on our Environmental Social and Governance (ESG) targets for 2025 and 2030. Secured a fourth consecutive Triple "A" rating from CDP, a new industry-leading Sustainalytics ESG risk score of 7.5, in the top 50 companies rated worldwide, and a second consecutive EcoVadis Platinum Sustainability Rating, with an industry-leading score of 88/100, in the top 1% of all companies assessed.
Patrick Firmenich, chairman of the Board, said, "Firmenich has performed solidly in the first half of FY2022, delivering strong revenue growth, despite a challenging global raw material and supply chain environment. We also continue to lead the industry in responsible business, making further progress against our ESG ambitions and achieving the highest global standards in ESG."
Gilbert Ghostine, CEO of Firmenich, said, "Our focus on creativity, digitalization, customer service and innovation has paid off, as we have delivered double-digit top and bottom-line growth despite global challenges in raw materials, supply chains and new waves of COVID-19. Since the start of the pandemic, we have demonstrated the resilience of our business and continued to invest in growing segments, key geographies and differentiating technologies. We will continue building strong customer intimacy and delivering superior service thanks to our dedicated workforce, focused innovation and strong vertical integration."
Want to know everything going on in flavor & fragrance? Sign up for P&F+'s newsletter. You can also follow along on Instagram and LinkedIn.