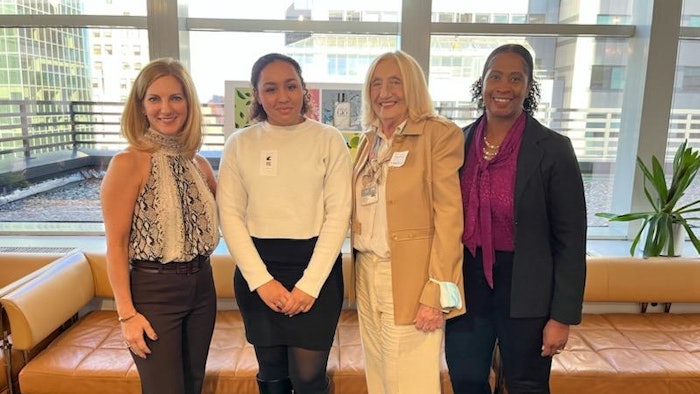 C/O FIRMENICH
Firmenich announced its partnership with the Fashion Institute of Technology (FIT) to establish a scholarship program created for BIPOC students. The Firmenich Foundation Diversity Scholarship at FIT aims to promote equal representation within the college's undergraduate Cosmetics and Fragrance Marketing (CFM) program and includes an internship and professional mentorship. The scholarship also provides tuition assistance for a graduate student in the Cosmetics and Fragrance Marketing and Management master's program.
With this commitment, Firmenich hopes to alleviate obstacles and help accelerate racially and ethnically diverse talent advancement from the classroom to the executive level. 
Scholarship applicants must meet certain academic criteria and present letters of recommendation to show their dedication to the cosmetic and fragrance marketing field of study. Alyssa Burch, a senior in the FIT program, was recently named the 2022 recipient, shares, "As the beauty industry constantly changes, there is one thing that remains true: no matter your background, creativity thrives when everyone brings their diverse ideas to the table."
Matthew Furner, president, The Firmenich Charitable Foundation, said, "Firmenich is a proud leader with EDGE (Economic Dividends for Gender Equality) certification, and has long prioritized an inclusive culture through diversity in its workforce, an absence of gender wage gaps as well as equitable recruitment, training, and mentorship programs. Building on this ethos, we're thrilled to offer our first-ever Firmenich Foundation Diversity Scholarship with FIT, which has been a leader in nurturing diverse talent while maximizing their professional potential. Together, we aim to set a high standard of excellence, encouraging the beauty and fashion community to reflect the perspectives and aspirations of our consumers."
Robin Mason, president North America, Fine Fragrance, said, "As a proud alumnus of the FIT Cosmetics and Fragrance Marketing bachelor's degree program, I'm humbled to play a part in creating opportunity for the next generation of fragrance leaders. By prioritizing representation in our industry through academia, we help foster a crucial educational environment, otherwise seen as inaccessible. At Firmenich, we hope these efforts will champion ambitious students, helping them to thrive and surpass their personal benchmarks, setting the foundation for a successful trajectory ahead."
Joyce F. Brown, Ph.D., president, FIT, stated, "We are deeply grateful for Firmenich's commitment to diversity, equity, and inclusion by establishing scholarship support for students of the Cosmetics and Fragrance bachelor's and master's programs at FIT. This generous gift from Firmenich will transform the lives of deserving students through extraordinary educational and career opportunities, while helping to ensure that the fragrance industry represents and champions diversity in all its forms."
Jerry Vittoria, Firmenich president of Fine Fragrance Worldwide and The Fragrance Foundation chairman, saidm "The Fragrance Foundation also supports a scholarship at FIT and I'm elated to work with two fragrance industry leaders which are taking steps to pave the path for a new generation of diverse and talented industry experts through FIT's Cosmetics and Fragrance Programs."