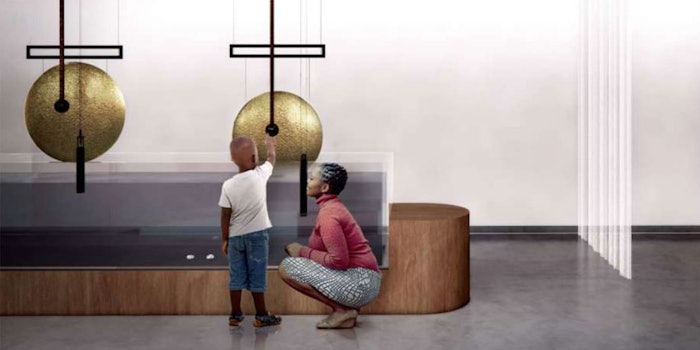 The Rubin Museum of Art has announced that the Mandala Lab, the Museum's new interactive space for social, emotional and ethical learning, will open to the public on October 1, 2021, offering free admission during opening weekend, October 1-3.
Related: Byredo Debuts Young Rose Fragrance
The Mandala Lab invites visitors to participate in five thought-provoking and playful experiences, with each of the activities on the floor taking inspiration from Buddhist principles that focus on self-awareness and awareness of others. Visitors will engage with a scent and memory library with contributions from six artists and master perfumer, Christophe Laudamiel; participate in a synchronized breathing activity with the aid of a newly commissioned pulsing light sculpture by New York-based artist, Palden Weinreb; take part in a gong orchestra with eight gongs suspended over water, curated by international musicians; and more.
As visitors journey through the space, they will examine feelings of pride, attachment, envy, anger and ignorance—known as kleshas in Buddhism—that cloud our understanding of the world around us. Visitors will then be invited to experiment and attempt to transform these emotional states into complementary wisdom. In this way, the Mandala Lab aims to offer tools and new perspectives for coping with the day-to-day challenges and emotional burdens brought about by personal and societal complexities—all heightened by the COVID-19 pandemic.
The exhibit design, led by PRO founding architects, Miriam Peterson and Nathan Rich, takes architectural and conceptual inspiration from a particular Tibetan Buddhist mandala, the Sarvavid Vairochana Mandala. Like a mandala, the Mandala Lab is divided into four quadrants pointing to the cardinal directions, with a main circular chamber—the center of the mandala—represented by the Rubin Museum's central spiral staircase.
Executive director Jorrit Britschgi, said, "Visitors will be invited to smell, see, touch and listen as they sense, interpret and process their own thoughts and emotions, using the Mandala Lab as a lens for healing. Given the emotional burden and tremendous social distress having come into sharper focus since 2020, the Mandala Lab hopes to serve as one of the city's first cultural healing spaces and be a source of insight and well-being."
Tenzin Gelek, senior specialist, Himalayan Arts and Culture, said, "In Buddhism, the five kleshas are the key afflictive emotional responses that are the root cause of our suffering. Tantric Buddhist practitioners use mandalas as visualization aids to help transform these emotions. With the Mandala Lab, we're using Buddhist wisdoms coupled with creative and interactive artworks and experiences to understand, unlock and heal these difficult emotions within ourselves. This "mental gym" invites us to face life with renewed wisdom and insights."
Want to know everything going on in flavor & fragrance? Sign up for P&F+'s newsletter. You can also follow along on Instagram and LinkedIn.