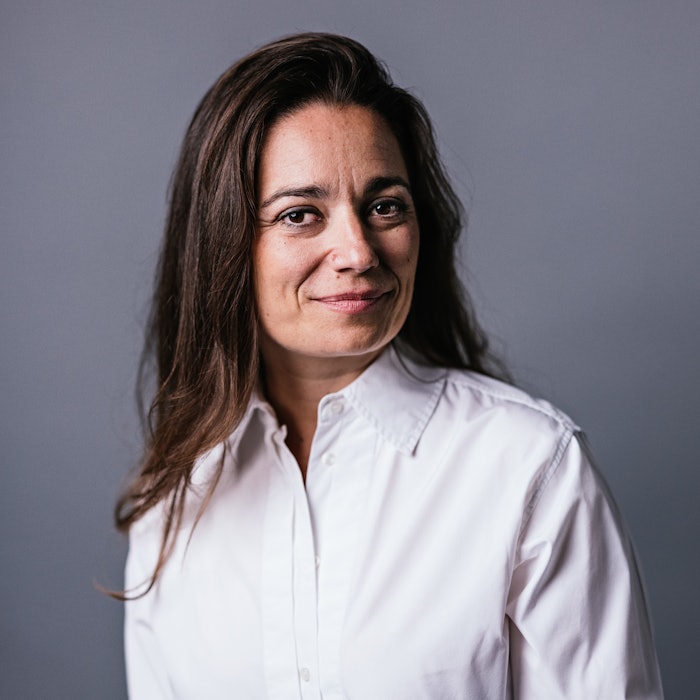 courtesy of dsm-firmenich
In February 2023 Perfumer & Flavorist+ connected with the perfumers behind the Paco Rabanne FAME feminine fragrance. The fragrance was created by a team of four, Dora Baghriche (senior perfumer, Firmenich), Marie Salamagne (principal perfumer, Firmenich), Alberto Morillas (master perfumer, Firmenich) and Fabrice Pellegrin (principal perfumer). We followed up with Salamagne to discuss the principal perfumer's journey into fragrance, her first project win and advice for aspiring perfumers.
What is your first scent memory? 
Marie Salamagne [MS]: I cherish scents related to my family roots in Dordogne, a beautiful region in the South of France, like the fireplace smell in the house or delicate flowers and vegetal sensations from its garden. 
When did you know you wanted to be a perfumer? 
MS: I have not been raised in the world of perfumery. Coming from a family of doctors, after my baccalaureate I started studying medicine. At the time I wanted to be a child psychiatrist, but I quickly realized that it was not for me... I was studying chemistry when I heard about the perfumery school of Versailles, ISIPCA, and the work of perfumer, from that point it became an obvious choice for me. 
What was your first project win? 
MS: My first fragrance was Mandarine Basilic in The Aqua Allegoria Collection by Guerlain, and it was stressful but a great honor that a brand such as Guerlain, which is one of the most important historically in the fragrance industry, trusted me so early in my carrier. And I'm blessed to see that, after all these years, people still love this fragrance! 
Advice for people coming into the perfume industry ? 
MS: This is a beautiful but tough industry. The studies are long, there is a lot of competition, but you have to learn to be patient, to never give up when you fail, and to stay humble when you succeed: a success doesn't guarantee you a carrier, and a failure doesn't significate you're not good at your work. Trust yourself, stay authentic, open-minded and curious, if you're passionate, it will work for you.